13 March 2008 Edition
Women's commitment marked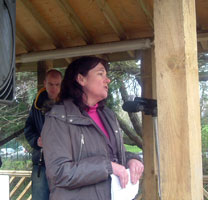 Up to 100 people attended an International Women's Day event in the Republican Women's Memorial Garden in the grounds of Roddy McCorley Society in Belfast on Saturday 8 March.
Sinn Féin Assembly member Jennifer McCann was the main speaker at the event which celebrated the lives and sacrifice of the many republican women who have contributed so much to the struggle for Irish liberation.
A new mural, honouring Mairéad Farrell, and depicting the links with women in struggle throughout the world was unveiled.
Among the guests of honour was veteran republican Bridget Hannon, who defiantly turned up despite being in ill-health. She was comforted by Deirdre McDonnell as she was clearly suffering in the bitter wind that swept Belfast on Saturday.