13 March 2008 Edition
Loyalists continue threats against family intimidated out of Stoneyford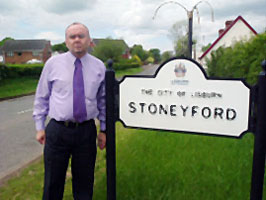 Sinn Féin Lagan Valley MLA Paul Butler has said that the threats by loyalists to a Catholic family who were forced out of Stoneyford in County Antrim have continued.
Speaking on Monday, 10 march Butler said that the family were informed the previous day by the PSNI of another threat against them at their previous address in the village – an address supplied to the PSNI in the threatening phone call made on Saturday past.
"Not content with intimidating this family out of the village these loyalists are continuing to cause the family deep anxiety. The campaign against the family lasted for several years during which time many incidents of intimidation occurred. The family is trying to rebuild their lives again after years of pressure and fear away from Stoneyford.
"They are very disappointed that they had to leave the village but had no other option because the PSNI had failed to protect them against loyalists well known to the PSNI", Butler said.