13 March 2008 Edition
Sinn Féin launches two new Irish language cumainn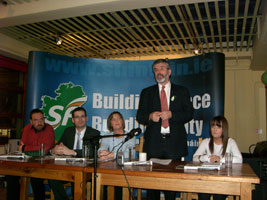 Sinn Féin has launched new Irish language cumainn in Dublin and Belfast.
Speaking during the launch of the Dublin cumann on Thursday, 6 March in Buswells Hotel Aengus O'Snódaigh TD said the project is a clear sign that Sinn Féin is serious about the Irish language.
Sinn Féin Irish language Cumainn are be launched throughout the country.
"These new cumainn shall be actively campaigning on Irish language issues such as the full implementation of the Official Languages Act, Acht na Gaeilge for the six counties and the reversal of Mary Hanafin's circular against total immersion education in Irish language schools", Aengus Ó Snodaigh said.
Over 200 people packed the Cultúrlann on the Falls Road for the launch of the Belfast cumann on Tuesday, 11 march.
Senator Pearse Doherty was joined at the Belfast launch by party president Gerry Adams, chair of the cumann Éamann Mac Mánais, Rosa McLaughlin and cumann member Rosha McGivern.
Doherty said Sinn Féin's policy is to make Irish the daily working language of the party.
"This is a milestone for our party. The Belfast cumann was launched in honour of Volunteer Caoimhín Mac Brádaigh who was killed in Milltown Cemetery while heroically attempting to save the lives of others, 20 years ago this week.
"It is apt to name the cumann after Caoimhín Mac Brádaigh as he was a Gaeilgeoir and an inspirational figure who had an immense love for the language.
"Like hundreds of other Sinn Féin cumainn throughout the country, the Caoimhín Mac Brádaigh cumann will campaign on local and national issues.
He commended cumann chair Éamann Mac Mánais and Rosha McGivern who both spoke passionately about the plans for the cumann.
"I believe young people today should become active in the language. The launch of these new cumainn is an example of this", Doherty said.
Gerry Adams spoke of the need for an Irish Language Act and commended Séanna Walsh and Sinn Féin's Roinn an Chultúir who made the cumann a reality.
A Caoimhín Mac Brádaigh banner was unveiled and a presentation given to Anne Loughran, sister of Caoimhín.