6 March 2008 Edition
Ard Fheis event focuses on women councillors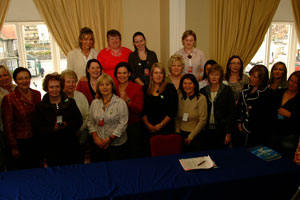 DURING the Saturday session of the Sinn Féin Ard Fheis the Party Development Department held a very successful event focusing on Sinn Féin women councillors. During the course of the event and to mark the anniversary of the deaths the Gibraltar Three, Áine Ní Dhubháin sang The Ballad of Mairéad Farrell and Pádraigín Uí Mhurchadha was honoured.
Pádrigín is the longest serving woman councillor in Sinn Féin. She was first  elected in 1985, and is currently Chair /Mayor of Monaghan Town .
The biography of Pádrigín's life was read out by Charlene O'Hara, Sinn Féin's new councillor to Lios na gCearrbhach, and,  at 19, the youngest councillor in Ireland.
Eibhlín Glenholmes said afterwards:
"I would like to thank Helen McCormack for the success of the event. We both became concerned that we hadn't enough seats. We were particularly pleased at the large turn-out of male comrades, including Caoimhghín O' Caoláin TD for Cavan/Monaghan, and members of Ógra Shinn Féin.
"We recognise the sterling, and unsung work done by all our councillors, but we wanted to both honour our existing female councillors and encourage other women to step into the role.
"Sinn Féin is about the business of organising for the future and women are to the fore in that role. We are organising and building for the Ireland of Equals, and as women are central to that preparation, it stands to reason that they are represented in the Party of Equals. Women are here on merit, they have earned their right to be part of any and all decision making processes.
"We listened to our President, Gerry Adams making an appeal for more women to come forward and join our ranks.  We saw our Ard Fheis elect six men and six women to our Ard Chomhairle. We listened to the informed contributions of our male and female comrades.
There is no question that women will continue to take up more roles internally and as public representatives. There is no doubt that the Party and our society will be the better for it."
An Phoblacht Magazine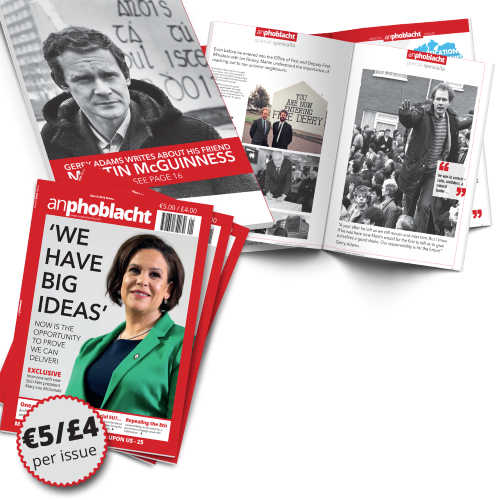 AN PHOBLACHT MAGAZINE:
The first edition of this new magazine will feature a 10 page special on the life and legacy of our leader Martin McGuinness to mark the first anniversary of his untimely passing.
It will include a personal reminiscence by Gerry Adams and contributions from the McGuinness family.
There will also be an exclusive interview with our new Uachtarán Mary Lou McDonald.
test