28 February 2008 Edition
Media View
O'Connor predicted to pen original thought soon
THOSE journalists in the Establishment media who relentlessly pursue an anti-Sinn Féin agenda are often naïve to the point of crass ignorance about revolutionary politics. This applies to those who claim 'war correspondent' expenses for drinking with 'IRA sources' in darkest West Belfast as much as it does to the more obvious opponents of republicanism. But the shameful comments of some of these hacks on the death of Brendan Hughes is matched only by their profound lack of respect for all freedom fighters, 'The Dark' included.
The Sunday Tribune's Suzanne Breen lionised Brendan Hughes last weekend but because he was a critic of the Peace Process and the Sinn Féin leadership. And Breen threw in a felon-setting claim when she wrote that an "alleged Army Council member" suggested disingenuously to Hughes that they recommence an armed campaign in 1995. This tactic is reminiscent of Sean O'Callaghan's efforts in his M15 ghosted book, The Infomer, where the former republican made various claims about dirty tricks played by leading members of the Movement against each other.
Republican contemporaries like Hughes and Gerry Adams forged bonds through years of struggle, including incarceration in Long Kesh, that most journalists do not understand and could not destroy, regardless of the political disagreement of latter years.
The Irish Times was less malicious but for the newspaper's obituary on Brendan Hughes to claim that he "attracted most attention" because of his criticism of the Sinn Féin leadership is, once again, most dismissive of the man. The obituary also claimed that, following the 1980 hunger strike, "the outside organisation tried at first to convince themselves and the media that the strikers had won cast-iron concessions". That's one way of putting it. Presumably, editorial executives at the paper of record could not bring themselves to record the plain, unvarnished truth, namely that the British reneged on commitments entered into, thus causing the deaths about which newspaper wrings its hands in the same obituary.


FIONNUALA O'Connor, whose public duty is to persuade Southern, middle-class liberals that not all Northern Catholics are unrepentant Fenians, was anxious last week to distract from the unedifying spectacle of Paisley Minor's indiscretions.
O'Connor appeared to be especially peeved at the equally repugnant and unusual sight of republicans NOT being the target of opprobrium and was keen to dish it to Sinn Féin on the question of ethics in politics and finance. However, being unable to cite any actual examples of such behaviour by republicans, O'Connor was reduced to stating that if they hadn't sinned yet, they would soon do so!
You think I'm distorting an Irish Times journalist? The actual text is:
"If no Sinn Féin figures have as yet been tempted into financial or other shenanigans that only look bad in the spotlight, someone will be soon."
To which I can only respond: "If O'Connor has not yet been tempted to pen an original thought, reactionary or otherwise, on republican socialist politics, North or South, then she may do soon.


CREDIT where it's deserved. Few mainstream writers dare to confront the prevailing consensus on the 'free' market and freedom of expression (i.e. freedom to exploit others and the freedom of media conglomerates to tell lies about poor people and their political expression, á la Rupert Murdoch).
Tom McGurk's defence of Fidel Castro and Cuban socialism in The Sunday Business Post was a good example of how a really compelling article needs to contain only three elements: truth, simplicity and a small degree of eloquence, in that order. McGurk explained how real lives and real people need health, education and dignity more than shiny consumer goods to attain fulfilment and that the Cubans have turned Western values upside down.
McGurk also described the inspirational example and practical solidarity that Castro's Cuba offered to Latin America, explaining in the process why the US reacted with such ferocity and dirty tricks against democratic movements in the region. Older readers will remember the 110 per cent support and salute offered to Bobby Sands and his comrades in 1981 by Granma, the official newspaper of the Cuban Communist Party, solidarity that was echoed elsewhere in liberation movements in the Americas. Cuba is a beacon still and it is small wonder that the 'free' press abhors Castro.

An Phoblacht Magazine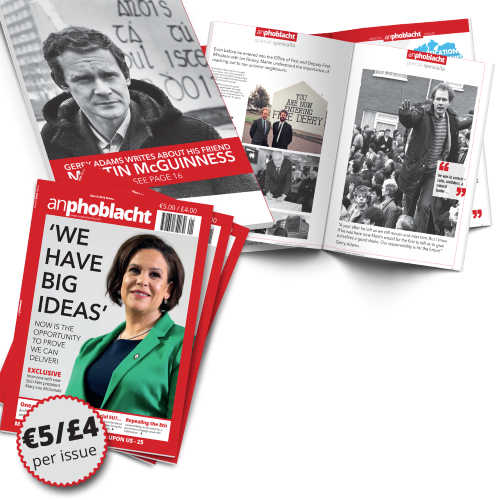 AN PHOBLACHT MAGAZINE:
The first edition of this new magazine will feature a 10 page special on the life and legacy of our leader Martin McGuinness to mark the first anniversary of his untimely passing.
It will include a personal reminiscence by Gerry Adams and contributions from the McGuinness family.
There will also be an exclusive interview with our new Uachtarán Mary Lou McDonald.
test