28 February 2008 Edition
The Cuban revolution continues on its own path
BY NIALL CONNOLLY


AN UNUSUALLY large number of articles and comments on Cuba and its political developments in the last recent days have been published in the Irish and international media. Such big interest in a relatively small country has a particular reason. Fidel Castro, the legendary revolutionary leader, stepped down from his position of Cuban president after almost 50 years in power and just a week before the newly-elected Cuban National Assembly was due to elect the new Council of State and its president.
Fidel represents an era of the Cuban people's fight and resistance for their sovereignty and existence as an independent nation. After the Cuban revolution, this unknown and undeveloped country became an internationally relevant factor in many regards. Let's just remember the Cuban role in the missile crisis in the early 1960s, Cuba's participation in the solidarity movement in favour of anti-colonial struggles all over the world, its support to Vietnam during the US aggression against that country.
In regards to Ireland, it is particularly important to remember that Fidel Castro was the only head of state who made public a strong statement supporting the Hunger Strikers and condemned the passivity of the international community in the face of this epic struggle and sacrifice of young Irish fighters for our rights and independence.
Cuba and Fidel survived the longest economic, financial and trade blockade in modern history and the attempts of no fewer than ten US administrations to destroy the socialist revolution. Under Fidel's leadership, Cuba was also able to continue its social and economic development in spite of the collapse of the Soviet Union and the socialist countries of Europe, its main allies and economic partners during three decades.
According to Cuban official data, the total cost of the US blockade to its economy in the nearly 50 years of its existence is $84 billion. Even so, in the same period Cuba was able to build an international, first-class educational and health system for its own population, something unthinkable in its neighbouring countries of Latin America. More than 30,000 Cuban doctors and healthcare specialists are working in the most remote areas of 70 countries of the Third World. One million Latin Americans and Caribbean citizens have recovered their sight due to solidarity cataract surgeries done by Cuban specialists in a free medical and solidarity campaign called 'Miracle Operation'.
The enemies of Cuba claim that this is the moment for a transition to a 'democratic system', which for them means bringing Cuba to its past neo-colonial status, and that stimulates the interest of some media for reporting on Fidel Castro's decision. The National Assembly has elected by secret and direct voting the new Council of State and this has elected the former first vice-president and Fidel Castro's brother, Raúl, as the new president of Cuba.
The new Cuban leader has expressed the Cuban leadership's willingness to work for the continuity of the Cuban revolution and the development of its own social model. Fidel Castro has shown his great sense of political responsibility to step down when his health prevented him fulfiling his duties. Cuban people have shown their unity and political experience by taking this opportunity to enter a new era in a calm and responsible manner.
The revolution goes on.
An Phoblacht Magazine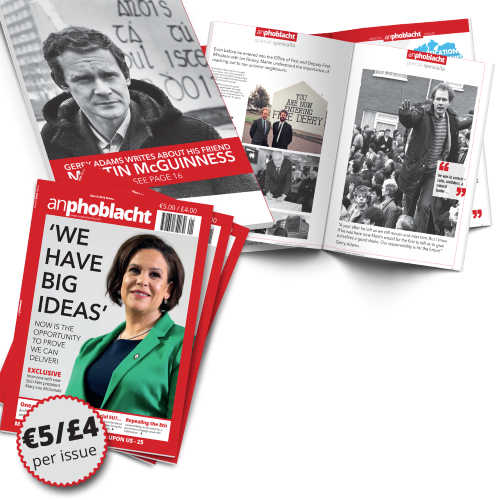 AN PHOBLACHT MAGAZINE:
The first edition of this new magazine will feature a 10 page special on the life and legacy of our leader Martin McGuinness to mark the first anniversary of his untimely passing.
It will include a personal reminiscence by Gerry Adams and contributions from the McGuinness family.
There will also be an exclusive interview with our new Uachtarán Mary Lou McDonald.
test