28 February 2008 Edition
In search of community safety solutions in Waterford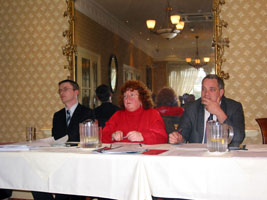 WATERFORD community safety, policing and public support services were top of the agenda in a fact-finding visit to the city on the Suir by Sinn Féin Justice spokesperson Aengus Ó Snodaigh TD last week when he met community groups, residents' associations and the Garda district chief superintendent.
Hosted and arranged by local Sinn Féin Councillor David Cullinane, this was the first in a planned series of country-wide visits to present Sinn Féin's own proposals for effective policing and better estate management to the public and, in turn, hear their views and experiences.
Speaking on Waterford Local Radio at the start of the day, Aengus explained the reason for his visit:
"Media, Garda and official assessments of local problems are not always accurate. They can underestimate the scale of a problem or they can exaggerate it. Nobody knows better than the local community itself the nature and extent of criminal and other activities that their area is dogged by. And, more often than not, the solution can be found in the knowledge and experience of the local community itself. I've come to Waterford today primarily to listen."
Twenty community groups from across the city – including residents' associations, the community drugs network and senior citizens' action forum – participated in the highly topical meeting organised by Sinn Féin locally.  
The open-floor discussion heard of the fears of older people resulting from a spate of break-ins with little or no Garda follow-up perceived and the difficulties in setting up residents' associations when the population of an estate is primarily made up of older residents and/or young working families with no time or real interest in participating.  
Representatives from community-based drugs groups spoke of their frustration when just €500,000 in funding was allocated to Waterford after they had researched and developed a plan to tackle the county's growing drug problems that would require €1.4 million to deliver.
The frustration with and disappointment in both the Garda and Waterford City Council was evident. Some people even questioned the value of reporting incidents at all because the failure to respond and follow-up has become so routine as to be expected.
The frustration is compounded by the fact that every constructive action plan developed is vulnerable to a change in personnel. The praises of one particular estate officer in the council were sung by everyone and a suggestion that he be cloned was put to the floor. It was said in jest but if the council was to clone and standardise this particular officer's work practices and methods then communities across the city and county would be better served.
Prevention was a recurring theme and there were calls for earlier intervention by the health authorities and others when a child or family first become the subject of complaints or concerns. It was suggested by a member of a local soccer club that there is a greater need for cross-departmental co-operation. A concerned teacher should be able to approach other agencies and ensure that a plan is put in place for children as young as five and six years old.
The Sinn Féin representatives went directly from their discussion with the community into a meeting with the Garda chief superintendent for the Waterford/Killkenny Division, Pat Murphy.  They had a two-hour meeting covering a range of issues, including those raised by the community at the earlier discussions. Councillor David Cullinane described the meeting as constructive and engaging.
"We covered a wide range of issues including drug crime, public order offences, community policing, domestic violence, joint policing committees and national and local Garda policing plans.
"We demanded increased visibility of gardaí, including more foot and cycle patrols. We called for more community gardaí and for the holding of clinics by community guards in local areas.
"On drug-related crime we called for a beefing up of the local drugs squad and a prioritising of resources. This includes more specialised and fully-trained gardaí involved in drug surveillance and intelligence-gathering as well as an increased presence at the port and airport.
"We also discussed the need for a confidential, independent drugs hotline which people could phone and give information about drug dealing in their areas similar to a successful pilot project in Blanchardstown."
David Cullinane said there is a recognition that the drug problem cannot be solved by law enforcement alone and that all five pillars of the national drugs strategy needed to be resourced with a special emphasis on prevention, intervention and treatment. Both the Sinn Féin representatives called for a properly resourced local drugs task force to cover Waterford City.
David Cullinane also raised the wasteful and what he described as "the unacceptable practice" of the Garda Special Branch maintaining a presence at Sinn Féin public commemorations – a waste of Garda time and resources. The chief superintendent claimed to be unaware of such a practice and promised to look into it in advance of Easter.
The visit by the party's Justice spokesperson is just one small part of a wider initiative being undertaken by Sinn Féin in Waterford. In addition, Sinn Féin has started a significant project of work in the county aimed at identifying both local perceptions and actual experience of crime, anti-social behaviour and the state's response to it. Their goal is to reach as many residents as possible – in the city, estates, towns and rural dwellings. This work will continue through the summer and will culminate in the publication of comprehensive recommendations in September which will be pursued vigorously by Sinn Féin representatives on the local Joint Policing Committee and councils.
An Phoblacht Magazine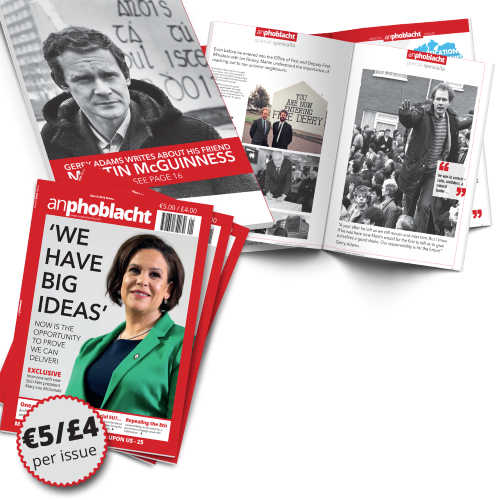 AN PHOBLACHT MAGAZINE:
The first edition of this new magazine will feature a 10 page special on the life and legacy of our leader Martin McGuinness to mark the first anniversary of his untimely passing.
It will include a personal reminiscence by Gerry Adams and contributions from the McGuinness family.
There will also be an exclusive interview with our new Uachtarán Mary Lou McDonald.
test