28 February 2008 Edition
Commemoration row can be resolved
This March marks the 20th anniversary of the summary executions in Gibraltar of IRA Volunteers Maireád Farrell, Dan McCann and Seán Savage. Those killings marked the beginning of a particularly tragic period in Irish history. Republicans throughout Ireland will mark those events and will pay respect to the memory of those who died.
As this year's International Women's day coincides with the 20th anniversary of the Gibraltar/Milltown anniversary Sinn Féin members in the Northern Assembly decided to mark the event around the person of Maireád Farrell, a strong inspirational woman who is held in high esteem by Irish republicans to this day. As Sinn Féin MLA Jennifer McCann said, such an event would be a particularly fitting tribute as Mairéad was a strong advocate for equality for women and who organised and participated in a number of events both inside Armagh Women's prison and outside to celebrate International Women's Day.
There was never any intention on the part of republicans to offend anyone by this event and certainly no intention to see Maireád Farrell's honoured name associated with a row that has much more to do with the internal political dynamics of unionist parties than anything else.
The proposition that unionists would stage a counter event at Stormont to celebrate the activities in Ireland of Britain's notorious undercover SAS is particularly insensitive.
Unionist representatives have attempted to outdo each other in their criticism of republicans. Unfortunately, once again their response is to try to demonise republicans and insult the children and the families of those murdered either directly by the SAS, RUC, UDR and the British Army or indirectly by their policy of collusion.
The language of unionist politicians must be particularly hurtful to those families who are hearing their relatives being described as "terrorists" and "criminals".
There is a duty on all political representatives in our current political situation to have empathy and understanding towards those of a different political outlook.
Unionist politicians need to afford the same level of respect to the families of those murdered by the SAS, UDR, RUC, British Army and unionist paramilitaries as they do towards other victims of the conflict.
Political representatives need to remember the situation of conflict out of which this country is emerging and recognise the hope that now exists to build a peaceful, stable future together.
As Sinn Féin President Gerry Adams has rightly suggested, it is time that the temperature was lowered around this issue. With genuine political will this controversy can be resolved.
An Phoblacht Magazine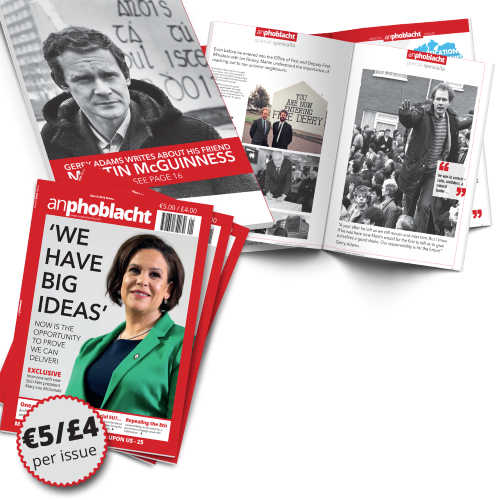 AN PHOBLACHT MAGAZINE:
The first edition of this new magazine will feature a 10 page special on the life and legacy of our leader Martin McGuinness to mark the first anniversary of his untimely passing.
It will include a personal reminiscence by Gerry Adams and contributions from the McGuinness family.
There will also be an exclusive interview with our new Uachtarán Mary Lou McDonald.
test