21 February 2008 Edition
Fifth Column
Nasty Nev's bid for freedom
IT MAY have taken five years but the English council chief who branded the Irish  "lazy bastards" is now prepared to apologise – days after he learned he might be given the freedom of his city.
When Carrickfergus Borough Council in County Antrim canvassed 'fellow British' councillors in 2003 for support into their push for an inquiry into the fatal shooting in barracks of a Royal Irish Regiment soldier, they might have supposed they would get a warm reception from the likes of Conservative Party Councillor Neville Sanders, leader of Peterborough City Council. They got the icy-cold shoulder instead.
Sanders wrote back as the First Citizen of his city: "Soldiers should be prepared to deal with a bullet. Members of the armed forces DO get killed – be it by accident or design – THAT is what they are paid for." When the Belfast Telegraph rang to confirm he actually meant what he wrote in the letter, Sanders went even further and roared that he was "fed up of paying taxes to cover for lazy bastards in Ireland".
England's local authority watchdog stripped him of his top job after the furore and he lost his seat two years later.
Nasty Neville's 'colourful' career included him trying to ban Big Issue sellers from Peterborough city centre, calling the largely female Labour former leadership of the council "a caucus of harlots", and comparing the policies of Friends of the Earth to those of Saddam Hussein and Adolf Hitler.
Now Peterborough councillors could give Nasty Nev the highest honour their city can bestow. They vote on 27 February.


Sins of the father
RICHARD LITTLEJOHN, the Daily Mail's resident bigot (who can also be seen in the Oirish Daily Mail) and favourite writer of British National Party führer Nick Griffin, is another product of Peterborough, having been raised there from the age of five and worked there as a trainee journalist.
As well as loathing left-wingers, trade unionists, peace campaigners, and asylum seekers, the Mail man seems obsessed with pillorying people who are homosexual and is widely regarded as homophobic. So what is he to make of his son's latest career move – working for Tory MP Alan Duncan, who is openly gay?


The prince and the pauper
EMPLOYMENT OPPORTUNITY: "You may find yourself providing information at the entrance, carrying out professional yet friendly security checks, or answering questions about works of art in the state rooms." No, it's not a job vacancy at Sinn Féin Head Office – it's in the British royal household at Buckingham Palace.
And the royal reward for this coveted position? A less than princely sum of £6.28p (€8.31) an hour. You do get a free lunch though. (One can't have dead peasants littering the state rooms from starvation or Queenie might think Prince Philip has gone on the rampage with his 12-bore.)
The wage offered by Queenie, whose personal wealth is estimated by Forbes magazine at £280 million, is a whopping 76p (a whole euro) above the minimum wage.
Unlike the monarch's job, Catholics can apply.
Save El Nivel
IRISH ARTIST Phil Kelly wants the historic bar in Mexico City once frequented by Fidel Castro, Che Guevara and Mexico's own revolutionaries in 1910 kept open as a cultural icon.
Across the road from the National Palace, El Nivel's doors have been closed since 2 January. The owner blames the National Autonomous University, citing a university court case to take over the building in which the bar is housed. The university hints that this isn't the whole story and that the owner has his own agenda.
Phil Kelly and the patrons of El Nivel (The Level) don't really care who's to blame – they want their bar back.  Over a hundred regulars (including Kelly) demonstrated their support last month in a good-natured protest, some carrying placards calling for the preservation of El Nivel as part of the "cultural and alcohol patrimony of the nation" (maybe that's a slogan for the Sinn Féin Cultural Department?).
"Every big city has its own iconic place," says Kelly, who stumbled across El Nivel when he moved to Mexico City in 1982. "There's La Fleur in Paris, or the Chelsea Hotel in New York, or the French House in Soho." El Nivel can be another.
"Why do people have to have huge monuments? There can be little ones too – ones you don't have to worship."
I'll drink to that.


The Dead Zoo move
THE proposed closure of almost all of Leinster House and the shifting of Senator Eoghan Harris next-door into the Natural History Museum with all the other extinct beasts in the 'Dead Zoo' has prompted much puzzlement as well as merriment.
One political wag (not a republican, I hasten to add) opined that you could have an Oireachtas usher greeting visitors with the announcement: "And over here we have the Dodo, the Woolly Mammoth and Fiona O'Malley."

An Phoblacht Magazine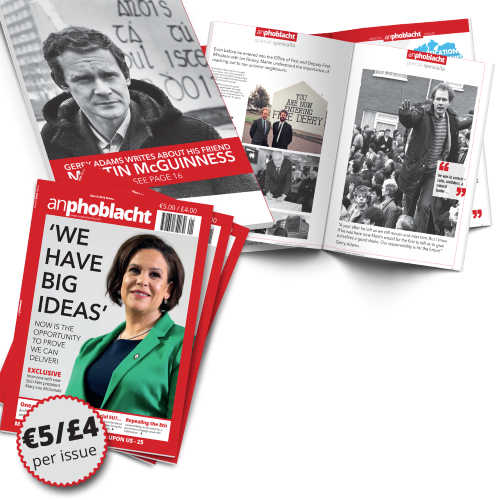 AN PHOBLACHT MAGAZINE:
The first edition of this new magazine will feature a 10 page special on the life and legacy of our leader Martin McGuinness to mark the first anniversary of his untimely passing.
It will include a personal reminiscence by Gerry Adams and contributions from the McGuinness family.
There will also be an exclusive interview with our new Uachtarán Mary Lou McDonald.
test