21 February 2008 Edition
Government responsible for Portlaoise Gaelscoil predicament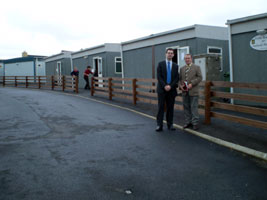 NEWS that the lease for the site of a Gaelscoil in Portlaoise is to be terminated this summer has placed the school and parents in an awful predicament.
Following the news that a Gaelscoil in Portlaoise has once again been forced to seek another site, local Sinn Féin Councillor Brian Stanley said that, since it started ten years ago, the school has had to move three times from one temporary location to another and has been totally dependent on prefabs for accommodation. Now, due to Government mismanagement of the public finances and ineptitude by the Department of Education, they are again facing a situation where they have not even a site secured to locate the prefabs on.
Brian Stanley said:
"This is outrageous given the success of Gaelscoil Phortlaoise and the pressure for primary school places in the town. Despite all the obstacles they have had to overcome, the parents and teachers have made this an outstanding success, both in terms of the number of pupils attending and the quality of education provided. The number of pupils will exceed 200 this year and would be higher but for lack of space.
"The Government and the Department have spent years prevaricating on the issue while huge sums of money that should have been spent on providing a permanent building have instead been wasted on renting prefabs and a site. The need for a permanent building for the Gaelscoil, catering for in excess of 200 pupils, was highlighted in the McCarthy Report which the Government commissioned over eight years ago."
Stanley said that questions need to be answered as to why the recommendation was never acted on by those who commissioned it and why hundreds of thousands of euro have been spent year after year on renting substandard accommodation. "Surely this is a case of the 'back of the envelope economics' and yet another example of how the wealth generated by Irish workers has been squandered over the last ten years.
"Given the Department's failure to even meet the owner of the present site to discuss the purchase of it, they must now explain to the parents and teachers what they intend doing at this late stage to provide a school before September. Sinn Féin will be using every opportunity to press this issue and to find a solution."