21 February 2008 Edition
All-Ireland action on suicide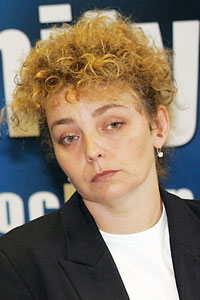 SINN FÉIN Health spokesperson Carál Ní Chuilín says that the first-ever joint meeting between the North's Assembly Health Committee and the Leinster House Joint Committee on Health and Children in Dublin (as An Phoblacht goes to print on Thursday, 21 February) as part of the Inquiry into Suicide is a welcome step in addressing this serious on an all-Ireland basis.
Speaking ahead of the joint meeting, Ní Chuilín said that suicide is a huge issue for communities across this island and that the challenge for politicians is to work with local communities to reduce the numbers of people self-harming and dying as a result of suicide
"The statistics for suicide make grim reading. Behind each death or person who self-harms is a family suffering immeasurable hurt and distress.
"While there has been significant progress in recent years in securing funding, as well as providing support and information, there remain many issues of concern around sustainable resources and mental health provision.
"In particular, there are many people, including bereaved families, working in the community and voluntary sector who are worried that much of the funding allocated is not reaching those groups which are in the front line of dealing with this issue and who provide a lifeline for those at risk."
The North Belfast MLA pointed out that there is also a serious problem in under-provision of psychiatric and community services for children, adolescents and young adults and said a strategic shift in the Health service response to suicide prevention and mental health awareness was needed.
"There are now also more meetings between officials about suicide prevention, North and South. That is useful. But we are still far short of the concerted, integrated all-Ireland action led by champions in government, North and South.
"Targets for suicide reduction need to be set. As our colleagues in Leinster House have argued, these would provide an accelerant for change. With practical and measurable steps, and proper and effective resources, we can begin to tackle this crisis and dispel the panic and fear about suicide."