7 February 2008 Edition
Sinn Féin backs Mahon Tribunal motion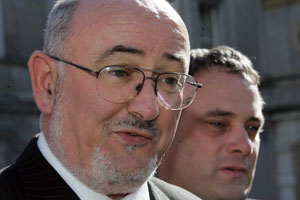 SINN FÉIN endorsed last week's private member's motion from Fine Gael reiterating support for the Mahon Tribunal into planning corruption. But Caoimhghín Ó Caoláin reiterated Sinn Féin's position that Bertie Ahern has far bigger reason to resign than his financial affairs and his engagement at the tribunal.
Speaking in the Dáil, Ó Caoláin said the Taoiseach should go because he has presided over a decade of government which has seen deepening inequality, the squandering of economic prosperity, the privatisation of public services, atrocious planning and delivery in housing and infrastructure, and chaos in the health services. These reasons far exceed in importance the Taoiseach's financial affairs, he said.
He added, however, that the Taoiseach's ability to deal with these issues has been deeply undermined by the mess which he finds himself in. Bertie Ahern has failed to convince people with his account of his personal and constituency finances. He has made contradictory statements and produced convoluted explanations that stretch credibility to the limit, the Sinn Féin Dáil leader said.
"We now have a serving Taoiseach at odds with the Revenue Commissioners as he had to admit here in the Dáil. Who advised him that Revenue would not be able to settle his tax affairs until the conclusion of the Mahon Tribunal? Did anyone do so or was this just another convenient way to deflect questions about his tax compliance?
"We also have a serving Taoiseach who cannot provide a tax clearance certificate. This was the Taoiseach who claimed last year that he was fully tax compliant. It was clear from the correspondence between the Taoiseach and the Revenue Commissioners that they were not and are not satisfied that he is tax compliant."