7 February 2008 Edition
Mary Lou addresses thousands in Paris on Lisbon Treaty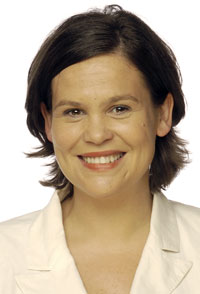 SINN FÉIN MEP Mary Lou McDonald addressed a gathering of thousands of activists in Paris at the invitation of the Committee for a Referendum in advance of the French parliament meeting in Versailles on Monday, 4 February.
Political representatives, trade union leaders, social movements and civil society took to the platform, demanding the most fundamental tool of democracy – a vote on the Lisbon Treaty.
The party's Dublin MEP said democratic principles and processes must be respected and the EU must underpin these principles, not undermine them.
"The EU political project must have the democratic mandate of the peoples of Europe – this is a bottom line.
"The Lisbon Treaty is a repackaged version of the defeated EU Constitution. How is it that the Constitution merited a referendum in France but its successor does not?"
In a question directed to the French Socialist Party, she asked: "How is it possible to be neutral or abstain on the principle of democracy? What are the implications of such a stance? If this core democratic principle is not championed, what is left to us?"