31 January 2008 Edition
Le ChÉile Leinster Honouree : Áine Ní Ghabhann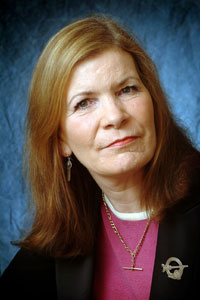 Here to the end
ÁINE NÍ GHABHANN (57), from Lougherew, County Meath, but a long-standing activist in Dublin City, is the Leinster honouree for the upcoming Le Chéile event to honour republicans who have made an outstanding contribution to the struggle.
Ahead of the Le Chéile celebration in Dublin on 1 March, she spoke to ELLA O'DWYER about her pride at being nominated for this award, her three decades-plus of republican activism and her resolve to "be  here to the end". 
Firstly, Áine, congratulations.
Thank you. I was totally taken aback when I was told and tried to refuse in favour of other people. I finally agreed and I have to say it's a great honour and I'm very moved, as are my family, who are very proud about it.

Can you tell me about your background?
I've two older sisters and two younger brothers. We were raised though the medium of Irish. My father learned it from a friend of his when he was 36 and he never liked to hear us speak English. Daddy, Padhraigh Mac Ghabhann, was a Volunteer in 1916. He died at 83 and Mammy (Maire Maguire) died at the age of 64. There was an age gap of 32 years between them.
My grandfather on my mother's side – Brían Maguire and his brother Tomás who lived on the border to West Meath – were both involved in the Movement in the 1920s. Brían Maguire's house was the headquarters for the IRA for the area and his brother, Tomás, was in jail in Ballykinlar in County Down for republican activities. My other uncle, Séamus Maguire, was in Limerick Jail and escaped across the Shannon along with other Volunteers. I used to hear stories about them when I was growing up.

Tell me about growing up in an Irish-speaking household in rural County Meath.
Gaeilge was our first language. When I was nine I spent three months in the Gaeltacht in Gweedore and later I spent a year in Inisheer in the Aran Islands with my aunt. I played camogie with the local school. My brothers, Seamus and Brían, and sisters Maireád and Mairín and I are very close and I'm very fond of my six nieces and ten nephews too.
My father had a small farm, about 30 acres, which is small for the likes of County Meath. We all worked on the farm as youngsters.

What brought you to Dublin?
I went to Dublin at the age of 18 to do a secretarial course. Later I got a job with a finance company. I was staying with my sisters in Drumcondra. I was earning £8 (€10) a week and the rent was £4.50 (€5.70) a week between the three of us. My parents would put a few quid in a post office book for us to help us out.

Was your family background the main reason why you joined Sinn Féin?
Obviously that would have influenced me but my parents never tried to impose their views on us, though politics would very often be discussed in the house.
The people I used to associate with in Dublin were generally political minded. Some would be in the likes of the Connolly Movement, generally left-wing though there were also of course the smoked salmon socialists [laughs].
I love traditional music and I used to go to some of the folk clubs that were around Dublin at the time and I'd go to them so I was meeting like-minded people here. My sisters and I played the tin whistle and we'd go to all the fleadh ceols. I'd also go to republican events like commemorations and, of course, Bodenstown.
I remember standing outside the GPO one day and seeing this man with a big hat giving a republican talk and it turns out that it was Charlie McGlade. There was quite a lot going on in Dublin. I also got involved in housing action events. I used to read a lot of political books about Wolf Tone and Che Guevara and people like that and then, just after Michael Guaghan died in England in 1974, a friend and I joined the Michael Gaughan Cumann that was set up in Dundrum in late 1975. It was kind of a natural progression from my early years and I went into it whole-heartedly.
The 'Brits Out' campaign was on the go then and we'd be out at night painting slogans and selling the paper, An Phoblacht/Republican News, a vital part of Sinn Féin work.
We tied in with the comhairle ceanntair and I was on the officer board for a period. I was a delegate to the Leinster executive. I was on the Women's Forum and worked with the Education Department in Dublin.
I remember too when Frank Stagg's body was being brought back to Ireland after he died on hunger strike in England, spending a full night at the airport waiting for the body to arrive back. About 30 of us went to Dublin airport to be with the family but of course the coffin was hijacked by the Free State forces and diverted to Shannon.

Then there was the hunger strikes period of the early 1980s and all the protests
Yes. I remember that my partner, an ex-internee, and I were devastated. He didn't go to work that day. We went to the GPO where there was a protest. We were out at protests, marches and all the stuff that was going on at that time. Then, in June of that year we moved to Listowel in Kerry for about a year and joined the local cuamnn there.
The 1981 Hunger Strike was still going on and we kept up the protests along with the locals. Then, in 1982, I moved back to Dublin and joined the Cathal Hughes Cumann in Rathmines. If you remember, it was all country people in that cumann – yourself, another country person – Mícheál Ó Rían from Thurles and the Garveys from Galway. It was a good, active cumann with very good political meetings.

Dublin was a hive of activity in the early 1980s, wasn't it?
It was. There were a lot of great workers in Dublin – the likes of Seán Crowe who's been there all through the years. I remember when I stood for the local elections in 1979, Seán was my director of elections. I've a lot of time for Seán – he was there almost as long as myself though he's far younger [winks].

I remember you as a postwoman cycling the length and breath of South Dublin and you still work with An Post.
Yes, I work full-time but I'm still very involved in our cumann, the Carroll/Ashe Cumann in Cabra. I'm the chair of the cumann. I stood with Nicky Kehoe for the local elections in 2004 and we increased our vote and across the South we had great results at that election. I remember Ann O'Sullivan saying: "Did you ever think you'd see the day?" 

So, Áine, it's been a long haul – over 30 years and now you're an honouree for the upcoming Le Chéile. Would you change any of it?
I wouldn't change anything in my life as a republican.
I remember when Eamonn Nolan and Treasa Quinn told me I was being nominated for the award. I said: 'Does that mean I can retire now?'  'No,' Eamonn said and neither would I want to retire. I'll be here to the end.

An Phoblacht Magazine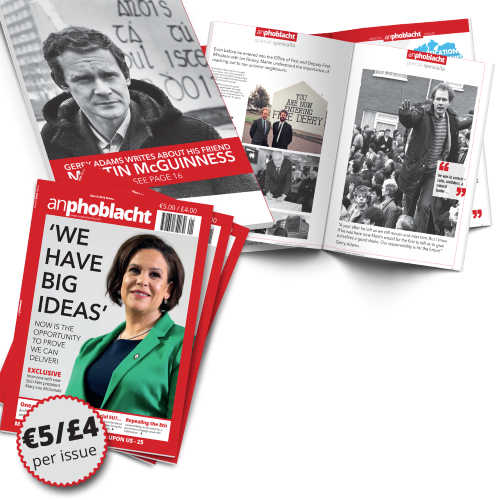 AN PHOBLACHT MAGAZINE:
The first edition of this new magazine will feature a 10 page special on the life and legacy of our leader Martin McGuinness to mark the first anniversary of his untimely passing.
It will include a personal reminiscence by Gerry Adams and contributions from the McGuinness family.
There will also be an exclusive interview with our new Uachtarán Mary Lou McDonald.
test