31 January 2008 Edition
IRA Volunteer's sister on Victims Commission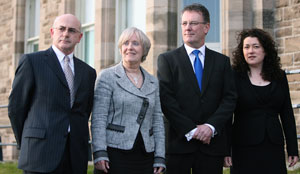 THE new Victims Commission announced in the Stormont Assembly on Monday, 28 January, will be made up of four commissioners, among them Patricia McBríde, the sister of IRA Volunteer Antoin Mac Giolla Bhride, who was killed on active service by the SAS in December 1984.
The other commissioners are: Bertha MacDougall, the former interim victims commissioner; Brendan McAllister, director of the Mediation Network; and former UTV presenter Mike Nesbitt.
In his statement endorsing the commission, First Minister Ian Paisley described Monday's event as "a very historic occasion". He added:
"We all know so many, many people have suffered terribly and continue to suffer as a result but we are committed to making a positive difference to the lives of those victims and survivors".
Expressing his confidence in the commissioners, Deputy First Minister Martin McGuinness said:
"The task ahead, we believe, is best addressed by four people who will be able to engage first-hand in a meaningful and effective way with the many, many people out there in need of their help."
Earlier, McGuinness rubbished claims that the Executive nominated four commissioners because they could not agree on the appointment of a single person.
"Nothing could be further from the truth," he said. "We never, at any stage of our deliberations, had a situation where the First Minister proposed someone and I proposed someone as an alternative. It never happened."
The Sinn Féin spokesperson on victims' issues, Mid-Ulster MLA Francie Molloy, welcomed the announcement of the appointments.
"It represents an important step forward in ensuring that all victims can be represented equally.
"The appointment of an independent, four-person Victims Commission represents a major step forward in ensuring that all of the many different needs, backgrounds and experiences of the many people who have lost loved ones and suffered during the conflict are dealt with on an equal basis.
"For Sinn Féin it is very positive that we now have in place a commission that puts the needs of victims centre-stage and that, through a collective approach, can ensure parity of esteem for all victims."
Francie Molloy added:
"The experiences and needs of no two victims are the same. Our objective must be to ensure that the commissioners working together will be able to more effectively engage with the diverse backgrounds of all victims and survivors equally."
Mark Thompson, of Relatives for Justice, believes the commission will ensure that victims from all political backgrounds are represented.
"This is a clear attempt aimed at addressing all of the existing concerns, by all the various constituencies or people bereaved or injured, which is always going to be difficult. The composition of the commission is therefore broadly inclusive and will contribute to building trust."