13 December 2007 Edition
Fifth Column
Shoppers of Destiny
SPURRED into action, no doubt, by our centrespread a couple of weeks ago on the online delights of the Sinn Féin Bookshop, I am indebted to a Mr W O'Dea of Limerick for alerting me to the Fianna Fáil online republican shop.
Is your Fianna Fáil man stuck on the ninth hole and still no nearer landing that lucrative property or planning deal? Then how about giving him a set of three Fianna Fáil golf balls in a box with the Fianna Fáil logo to produce at the opportune moment? Priced at €6.50, you could see a heftier return than a Dubliner magazine libel settlement for Mrs Tiger Woods.
And there's a pair of Fianna Fáil cuff-links at €40 – just the things to have up your sleeve at that sticky formal business meeting. Or there's the Fianna Fáil chrome thermos flask to keep you warm while you're waiting outside Dublin Castle to be called before the Planning Tribunal.
For your house den built by Paddy the Plasterer, there's a PC mouse mat bearing the slogan: "I'm on Bertie's Team." It's ideal for a Finance Minister just getting to grips with online banking instead of hiding his stash of cash in the tea caddy or under his Manchester United mattress. Although priced at just a fiver now and ideal for Senator Eoghan Harris, there's not a great rush on them and you might want to wait for the "I'm on Brian's Team" version, due out very soon.
For the more politically driven Soldier of Destiny there's a range of vintage Fianna Fáil election posters at a tenner apiece.
There's the 1938 issue: "Speed the plough – Vote Fianna Fáil" (although there's no updated version like: "Speed the plough – We've apartments to build here"). Or the 1954 one, "Workers! Fianna Fáil is on your side – Always was and always will be," as it promises, "There will be more industries – schools  – houses." (It's historical not hysterical, remember.)
But the classic is the one above from 1951: "Wives! Get your husbands off to work. Vote Fianna Fáil." Perfect for the Mammy.


Air brush with the past
SPEAKING of Senator Eoghan Harris, the old ex-Stalinist sage turned up on TV3's The Political Party to defend his hero and patron, Bertie Ahern.
Ursula Halligan (who looks uncannily like a young Angela Lansbury playing amateur detective/novelist Jessica Fletcher in the TV murder mystery, Murder She Wrote) probed Senator Harris on his political lurch from the far left to the right that would have sunk the Titanic without the iceberg if he'd been on board.
Well, Harris ventured, Irish people like to move around and politics is no different. Hadn't he "worked for Fine Gael and worked for the Workers' Party"? Hmmm.
Yes, he certainly worked for Fine Gael, whom he relieved of a stack of hard cash for jobs that included the embarrassing cleaner sketch 'starring' Twink at the 1991 Fine Gael Ard Fheis. But to try and air-brush as just "working" for the WP when he was the chief ideologue of the Workers' Party in its most Stalinist, KGB-kissing era is a bit much.
Jessica Fletcher wouldn't have let Senator Harris gloss over the evidence like that, Ursula.


Christmas Order
FIVE months after the Orange Order was quizzed by the North Belfast News about why a banner honouring UVF gunman Sam Rockett and north Belfast man William Hanna was allowed on one of its marches, the newshounds are still waiting for an answer.
Orange Order spokesperson Mervyn Gibson said it was "not particularly difficult" to deal with and the answer should be with the North Belfast News "before Christmas". He didn't say which Christmas though.


Scum
THE soccer World Cup 2010 draw, pitching bitter rivals North Korea and South Korea against each other in the same qualifying group, promises some commentary that would make Ron Atkinson blush if the North's pronouncements on their neighbour's presidential election candidates are anything to go by.
North Korea is reviled by South Korea as a Stalinist dictatorship; North Korea has no love either for what it sees as a US puppet regime described by admirers as "the poster boy of Asian capitalism" – and it shows.
Lee Hoi-chang is the second favourite to win next month's poll but he's no favourite with North Korea's answer to the BBC and RTÉ. Imagine Charlie Bird describing David Burnside as "a war maniac" and "human scum", or UTV's Ken Reid calling Mary McAleese "a sycophantic traitor" and you get an idea of what's going on with their counterparts in Pyongyang.
North Korea's KCNA official news agency quoted one group as denouncing the would-be president as "a die-hard anti-reunification element, a political charlatan and a kingpin of irregularities and corruption".
Now that sort of talk would liven up the Planning Tribunal or John Bowman's Questions & Answers. Can't wait to hear North Korea's answer to Jimmy Magee. 

An Phoblacht Magazine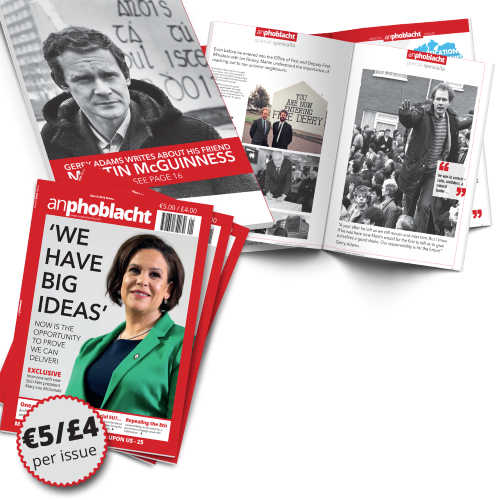 AN PHOBLACHT MAGAZINE:
The first edition of this new magazine will feature a 10 page special on the life and legacy of our leader Martin McGuinness to mark the first anniversary of his untimely passing.
It will include a personal reminiscence by Gerry Adams and contributions from the McGuinness family.
There will also be an exclusive interview with our new Uachtarán Mary Lou McDonald.
test