13 December 2007 Edition
Lives put at risk by Fire Service cuts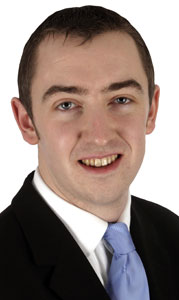 NORTH ANTRIM Sinn Féin MLA Daithí McKay has expressed concern at the effect that the draft Health budget will have on the Fire and Rescue Service across the North. McKay said:
"The Fire Service has stated clearly that if they do not receive adequate funding in the budget they may have to remove whole-time fire-fighters from stations such as Ballymena. This will mean that response times in many towns across the Six Counties will not be met and will also mean that fire stations on a waiting list to be replaced will be put on the long finger for years.
"In my own constituency of North Antrim there are three fire stations – in Cushendall, Ballymena and Ballycastle – which are in dire need of replacement. Many of these stations were built in the 1950s and they do not meet the modern needs of a fire and rescue service.
"Every department has budgetary pressures and every department needs more money. This is particularly true in areas such as health. However, Ministers need to not just prioritise their bids they also need to make sure that they can protect and deliver on core commitments. Lives will undoubtedly be put at risk if the investment funding for the Fire and Rescue Service is cut over the next three years."