13 December 2007 Edition
Book review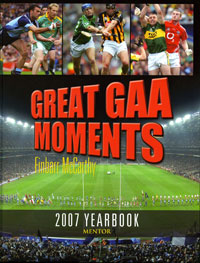 One for the coffee table
Great GAA Moments
2007 Yearbook
Mentor Books
Price €25


Reviewed by Matt Treacy

THE best thing about this book are the photographs. That is not to slight Finbarr McCarthy's prose but there have been better books written about the GAA this year.
Then again, the object of the book is not to provide in-depth analysis but more of a summary of the main events in the calendar and it does this well. The photographs enhance this by capturing key moments from the first floodlit match in Croke Park to Dan the Man in full flight.
The book also serves as a useful reference for the senior championships. Handy to have unless you are possessed of the kind of photographic memory possessed by yours truly (if only everything since 1995 was not such a blur).
It will also remind anyone who reads the book of their own great moments of the year, be it your own club or, in my case, the Dublin under-21 hurlers beating Offaly in the Leinster final after years of heartbreak. That made my year.
Next best the minors beating Kilkenny. All very subjective, of course.
Everyone will also have their own opinion on what were the best matches. The two senior finals were something of an anti-climax with both Kerry and Kilkenny winning with ease. Kerry's earlier victories over Monaghan and Dublin were far more interesting with the semi-final arguably the best football match of the year. The Louth/Wicklow series were also enthralling.
In hurling there were many good games, including the Nicky Rackard final between Roscommon and Armagh but, for my own tuppence worth, the drawn game between Waterford and Cork in Croke Park stands head and shoulders above all the rest.
I remember at the end a Cork fan turning irately towards where I was sitting, half annoyed at the free given for Donal Óg lying on the ball but mostly I expect because of the vociferous support from the Limerick and Clare supporters for the Decies. But their smiles spoke more of sheer joy at having witnessed one of the greatest games of hurling ever played there than pleasure at Cork's discomfort. What could he do but smile himself?
So the book is a worthwhile contribution to the growing library of GAA literature. Not a classic by any means but nor was it designed to be. Your perfect coffee table book for 2007. Or, for those of you outside the Metropolis, a book to keep on the upturned beer crate or milk churn.

An Phoblacht Magazine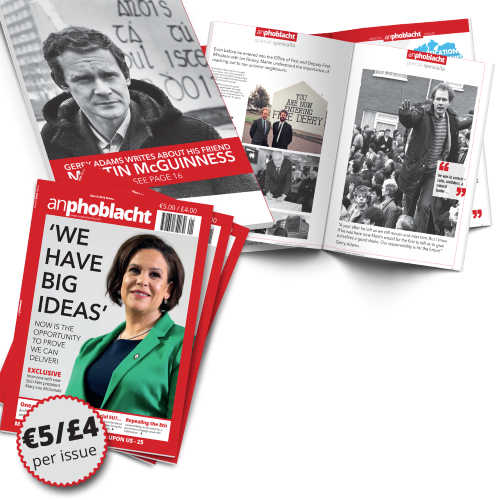 AN PHOBLACHT MAGAZINE:
The first edition of this new magazine will feature a 10 page special on the life and legacy of our leader Martin McGuinness to mark the first anniversary of his untimely passing.
It will include a personal reminiscence by Gerry Adams and contributions from the McGuinness family.
There will also be an exclusive interview with our new Uachtarán Mary Lou McDonald.
test