13 December 2007 Edition
Book review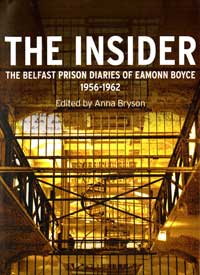 The inside IRA story
The Insider: The Belfast Prison Diaries of Eamonn Boyce, 1956-1962
Edited by Anna Bryson
Lilliput Press
Price €40


Reviewed by Shane MacThomáis

AT HOME on my shelf I have a little box in which I keep small artefacts of republican history. In it lies, amongst other things, the belt worn by Joe Clarke in Mount Street in 1916, a purse woven by the Countess Markievicz in Kilmainham Jail in 1923, handkerchiefs made by Rita O'Hare and Rose Dugdale in Limerick Jail in 1973, and an old wallet beautifully crafted and inscribed "P Kearney, Crumlin Road, 1957."
For many years I looked at the wallet and wondered who P Kearney was, what he had done to end up in Crumlin Road, and what had become of him. Now, thanks to a wonderful new book called The Insider: The Belfast Prison Diaries of Eamonn Boyce, 1956-1962 (edited by Anna Bryson) my questions have finally been answered.
Eamonn Boyce was born in Dublin in 1925. He joined the IRA in 1952 when the Dublin Brigade numbered just 22 Volunteers. When that generation of dedicated republicans was called to arms, Eamonn and his fellow Dubliners, although few in number, were not found wanting. Eamonn was a key figure in the successful raid on Gough Barracks in 1954 which gained international attention and a handsome cache of arms for the IRA.
An attempted repeat of the Gough raid backfired at Omagh, in County Tyrone, in October 1954, and eight IRA Volunteers were caught and sentenced to long terms of imprisonment for "treason felony". Amongst them was the then Intelligence Officer for the Dublin Brigade, Eamonn Boyce, sentenced to 12 years' imprisonment.
On arrival at Crumlin Road Prison, Eamonn was told that one of a rules of the prison forbade the keeping of a diary so he did what any IRA man would have done – he started one immediately. He maintained "act of defiance", as he called it, from December 1956 to September 1962. Against the odds, the manuscript has survived and has been painstakingly translated from the old Irish script or cló Gaelic that Eamonn wrote into English by the historian Anna Bryson and Eamonn himself.
The Insider is an essential book for anyone who has an interest in the 1950s campaign or how one man deals with the daily monotony of imprisonment. It is truly an insider's perspective on the unfolding IRA campaign gleaned from newly-arrived prisoners, secret correspondence with the IRA and the latest news reports on a smuggled and cleverly hidden transistor radio.
Within the bleak confines of Crumlin Road Prison, Eamonn sets down hopes, dreams and fears. The diary became an indispensable tool to keep human dignity alive.
Anna Bryson sets the tone for the book by giving an insightful and honest account of the period leading up to and covering the 1950s campaign and has diligently sourced and footnoted all the people mentioned by Eamonn in his diary. As you read the book you find out who was 'Max' and how he was planning an escape.
You also come across many names of men forgotten about by history who played a part in the 1950s campaign, including a current Labour MEP lifted in the Dublin Mountains while arms training! This book has its moments of fun – as when a good game of football is played – and its moments of tragedy as when Eamonn recounts that "he has the bonk [depression] today" or when his spirit of rebellion is slowly dwindling as the armed campaign taking place outside the prison walls slowly starts to unravel.
Well, thanks to this gem of a book I found out who P Kearney was (a CIE worker who was arrested on the Omagh raid and sentenced alongside Eamonn) and many other facts that I didn't know, including the news that my own father went around in a wig and glasses to evade arrest. It was something I thought curious until I realised this wasn't the bearded and bespectacled man I grew up with but a clean faced youth in his 20s.
The Insider is a worthy book, a celebration of the courage and defiance of Eamonn Boyce, an historical archive of who's who in the 1950s campaign and a testament to those who sacrificed their freedom and sometimes their lives in the pursuit of a united Ireland.

An Phoblacht Magazine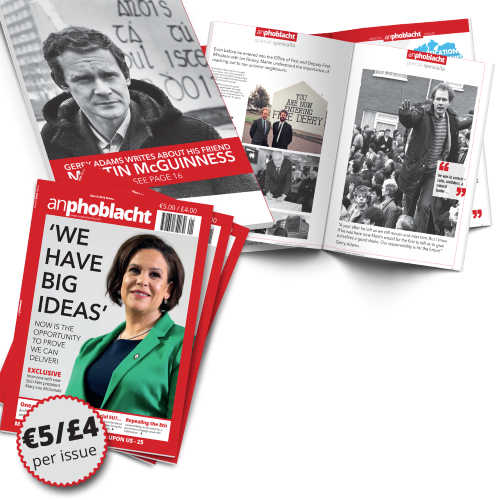 AN PHOBLACHT MAGAZINE:
The first edition of this new magazine will feature a 10 page special on the life and legacy of our leader Martin McGuinness to mark the first anniversary of his untimely passing.
It will include a personal reminiscence by Gerry Adams and contributions from the McGuinness family.
There will also be an exclusive interview with our new Uachtarán Mary Lou McDonald.
test