13 December 2007 Edition
Bid to airbrush collusion from Miami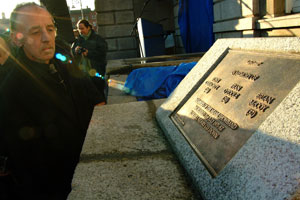 ATTEMPTS to airbrush the issue of collusion out of the murders of members of the Miami Showband 32 years ago is unacceptable and will fail, Sinn Féin Newry/Armagh MLA Mickey Brady has said.
The infamous Miami Showband massacre took place on 31 July 1975, near Newry, while the band was travelling home to Dublin after a gig in Banbridge, County Down. Their tour bus was stopped at a roadblock, flagged down by men who were not only serving soldiers in the British Army's Ulster Defence Regiment but active members of a unionist death squad, the Ulster Volunteer Force.
Speaking on Monday as a memorial to murdered Miami Showband members Tony Geraghty, Fran O'Toole and Brian McCoy in Dublin, Mickey Brady said that attempts by sections of the media to airbrush the involvement of serving members of the UDR and RUC out of what happened that day is unacceptable and a disservice to the victims.
"The facts are well documented and therefore there is no excuse for the media to present these murders as simply another sectarian attack by the UVF. It has long been accepted that this was an ambush set up and carried out by serving members of the UDR and RUC in an attempt to further inflame sectarian tensions in the North. No amount of revisionism will be able to change these facts and it should be treated by all seeking truth and justice with the contempt it deserves."