13 December 2007 Edition
TASER death provides further evidence of lethal danger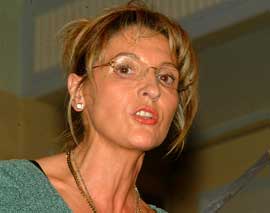 Sinn Féin Policing Board member Martina Anderson has said that the recent death of a man in Canada from the use of TASERs provides further evidence of the lethal nature of these weapons.
Anderson said that since Sinn Féin joined the North's Policing Board there had been much debate about TASERs and that it is vital that the Patten recommendations on a non-lethal alternative to Plastic Bullets and Firearms are delivered. She said Sinn Féin would work with the Policing Board and the PSNI to ensure that no lethal weapons are added to the armoury of the PSNI.
"Two weeks ago the lethal nature of TASERs was demonstrated, when a Polish man, who did not speak English, was killed at an airport in Canada by a TASER.
"Sinn Féin is opposed to the use of what is obviously a lethal weapon. We want to see a policing service that is fully compliant with international human rights standards and that can deal with public order without resorting to lethal force", Anderson said.
"The recent death of a man in Canada demonstrates the lethal capability of TASERs. It is even more regrettable that Hugh Orde has chosen to ignore the view of the board in October.
"The Policing Board asked for a number of clear conditions to be met before Hugh Orde did anything. This position is also supported by the Equality Commission and a number of Human Rights organisations that have voiced opposition to the introduction of TASERs. We will be raising this issue with Hugh Orde at the Policing Board meeting this week", she said.