13 December 2007 Edition
SF conference : Engaging Modern Ireland
Building the economy
LAST SUNDAY saw hundreds of Sinn Féin members from across the country attend a special party conference in Dublin. Entitled Engaging Modern Ireland, the day-long conference followed months of intensive consultation meetings around the 26 Counties since the general election.
The results of that consultation laid the basis for last weekend's conference theme and for a renewed political, organisational and electoral strategy by Sinn Féin in the 26 Counties.
The conference format saw important contributions on a range of issues from senior party figures and a number of invited outside speakers. The keynote address was delivered by party president Gerry Adams MP in which he set out some of the key conclusions from the consultation process and what was described as the "new and challenging role" for republicans in modern Ireland.
Those attending the conference were in no doubt that this was a defining point for the party and for mapping out its response to the social, economic and political issues emerging from a changing Ireland. Participants were in positive and upbeat mood and speaker after speaker laid down the marker that a line had been drawn under the general election and that activists across the country are now ready and eager to face the challenges that lay ahead, the immediate ones being the Lisbon Treaty referendum in 2008 and the local and EU elections in 2009.
By Caoilfhionn Ní Dhonnabháin

THE DEBATE on 'Building the Economy' kicked off the conference on Sunday morning. A number of themes ran through the contributions of all speakers: the need to address regional economic disparities, the need to work for a strong and equal economy, and the need to regain competitiveness without compromising on workers' rights.
The first of two guest speakers was Liam Nellis, Chief Executive of InterTradeIreland, a cross-border body established following the Good Friday Agreement.  Nellis spoke of the economic benefits accruing from cross-border co-operation.
"It makes so much sense for us to work together, optimising the use of the economic resources that are at our disposal."
He spoke of the untapped potential of North/South economic collaboration to deliver new competitive advantages that are mutually beneficial.
InterTradeIreland had "a vision of a globally competitive island economy in which the North and South collaborate to make the best use of the resources", according to Nellis.
Michael Halpenny, National Industrial Secretary with trade union SIPTU, spoke of the need to ensure that workers' rights are not sacrificed in an attempt to improve competitiveness.
Halpenny highlighted the exploitation of temporary agency workers and spoke of "a new breed of tooth-and-claw capitalist emerging, adept at manipulating loopholes". The right to equal treatment of temporary agency workers will have to be legislated for.   According to Halpenny, it is time for the Fianna Fáil-led Coalition to decide "whether social partnership is more important to our competitiveness in these uncertain times than anything which some might perceive to be gained by denying vulnerable workers equality  of treatment". 
Building a prosperous and equal economy is at the core of Sinn Féin's vision for Ireland, according to Arthur Morgan TD, Sinn Féin's newly appointed Economic Affairs spokesperson, in his key-note address in this section.
Morgan emphasised that Sinn Féin is "committed to managing the economy in the interests of the people of Ireland". The Louth TD said:
"Sinn Féin representatives engage on a daily basis with those who form the backbone of the economy – with workers, entrepreneurs, retailers, hoteliers, pub and restaurant owners, the fishing and the farming community." Sinn Féin, he said, understands the concerns of those who continue to provide the vast majority of jobs in the economy.
He set out the party's objective to work with them to build an economy that is "strong, vibrant, prosperous, equal and sovereign".
Morgan slated the failure of the Government to adequately help indigenous enterprises or support entrepreneurial activity and for instead favouring the property sector. He called for an emphasis on the development of the agri-food sector and the need to facilitate rural Ireland to reach its economic potential.
Councillor Martin Kenny, from Leitrim, Údarás na Gaeltachta member Gráinne Mhic Géidigh and Councillor Pádraig Mac Lochlainn (both from Donegal), Councillor Thomas Sharkey from Louth, and Councillor Martin Hallinan, from East Cork, also spoke during the debate on 'Building the Economy'.
All of these speakers touched on the need for a greater emphasis on economic development and job creation in the regions and the need to target economic blackspots, including through the provision of proper infrastructure and the abandonment of a 'one size fits all' approach to job creation.
Jury no longer out on climate change
By Robbie Smyth


"CLIMATE change does not see political boundaries," was the opening message from Dr Rowan Feely, senior researcher with the Irish Climate Change Analysis and Research Unit at NUI Maynooth, whose landmark study on climate change in Ireland was published earlier this year.
"The jury is no longer out on climate change," said Dr Feely, who cited the work of over 2,500 atmospheric scientists and the endorsement of over 100 governments who now accept they must act on lowering CO2 emissions as well as taking other environmental protection initiatives.
Feely's address was filled with details on the effects of climate change across the island and in particular the weather record of the last 24 months as a pertinent demonstration of the massive change in local climatic conditions.
2006 was one of the longest droughts on record in the east and south-east while 2007 was the wettest summer on record with April this year, recording the highest-ever average temperatures for the month.
Dr Feely's call for action at both international and all-Ireland levels to tackle climate change was a theme taken up by Sinn Féin MEP Bairbre de Brún. Bairbre is a member of the European Parliament's Climate Change Committee.
"We must include climate change at the heart of our strategies whether we are talking about energy, industry, transport, agriculture, waste management or international aid," she said.
The MEP explained the work of Sinn Féin at the European level on climate change, including dialogue with NGOs and helping develop the European Parliament's position on the post-Kyoto climate change policy.
Daithí Doolan, Sinn Féin spokesperson on the Environment on Dublin City Council, said the 10 Sinn Féin councillors on Dublin City Council got backing for a Climate Change Working Group to draw up and implement a five-year strategy to "ensure this city impacts positively on climate change". Doolan recommended that other Sinn Féin councillors instigate a similar strategy on their local councils.
Gerry Murray, a Sinn Féin councillor in Mayo, highlighted the lack of central government leadership which prevented local councils from giving planning permission for the building of eco-friendly, sustainable houses.
Murray castigated the record of the Greens in government for delaying the completion of the Western Rail Corridor until 2020. And he pointed to the closure of 43 freight destinations on the Irish Rail network.
The last speaker in the section was Paul Cassidy, from Monaghan, who criticised the internal contradictions of Dublin Government policies when, "Ten years ago they signed the Kyoto Treaty while at the same time driving a policy of creating a car-based culture at full pelt."
Making communities safer
By Michael Nolan


POLICE accountability and community support were the key phrases repeated during the session on 'Community Safety'.  Fitting too that the discussion took place in the building that houses the Law faculty in Griffith College.
Opening the discussion, recently-appointed Six-County Policing Ombudsman Al Hutchinson said the believes Sinn Féin will be "robust" in its efforts to hold the police to account.
"There are three basic requirements for democratic policing: strong accountability structures, police professionalism and policing legitimacy. I believe the forms and structures are in place to ensure professionalism and accountability. Legitimacy in policing and the trust of the communities are a work in progress.
"I believe that you will be very robust in holding the police to account and I have every reason to believe that will happen."
Speaking during the same section, Sinn Féin's Community Safety spokesperson, Aengus Ó Snodaigh TD, said policing and community safety remain hugely important issues for Sinn Féin.
"Apart from the human cost of drugs there is also a large financial cost," citing the number of drug addicts presenting at A&E departments; treatment for those who have contracted hepatitis C, HIV and AIDS; unemployment and disability payments for those who can't work because of drug dependency; and payments to the guardians of orphaned children of drug addicts.
"The cost to society of drug addiction is vast." And this is before you include the direct cost of drug-related crime which, he said, accounts for up to 70 per cent of all crime.
"Investment in prevention, treatment, rehabilitation and reducing the supply of illegal drugs makes both social and economic sense," he said. "This government may talk tough on crime but it's just that – all talk. In this year's Budget, spending on the Drugs Initiatives/Young People's Facilities and Services Fund has been allocated only €64 million while spending on the Horse and Greyhound Racing Fund is €76 million."
Urging Sinn Féin public representatives and activists to intensify their work in their communities and through the use of the Joint Policing Committees, Aengus said: "Sinn Féin must use our political power at local and national level to deliver change to our communities."
Also speaking was Sinn Féin TD Martin Ferris who in the course of his contribution called for greater support for the Garda from communities in the fight against crime.
"I have been a republican all of my life and, like many republicans, have been at the receiving end of political policing, in particular 'The Heavy Gang'," he said. "I remain a committed republican and I am unequivocal in saying that gardaí need and deserve the support of local communities, of elected representatives and of everybody in the fight against crime and in particular the scourge of drugs."
Waterford Councillor David Cullinane offered condolences on behalf of Sinn Féin to the families of the two young Waterford men, Kevin Doyle and John Grey, who died after taking cocaine at a party in the city two weeks ago.
"If this tragedy has taught us anything it is that it exposed the fact that we have a national drugs crisis in this country.  And the tragedy blows out of the water the myth that cocaine is a harmless drug."
Former TD for Dublin South-West, Seán Crowe, acknowledged that while there were mistakes made in the past in relation to the community fight-back against drugs, he said the key factor in the successes of the past, in which republicans played a leading role, was community involvement. Today's plans, he said, "must actually involve the community and they must become part of combating the problem".
Six-County Policing and Justice spokesperson Alex Maskey MLA closed the session by recalling the debate around policing that the party engaged in earlier in the year, describing the process and outcome as a very courageous move:
"Central to our justice and policing engagement is giving our people and the people we represent a quality of life which is free from crime."

Welcoming new communities
By Helen McCormack


SALOME MBUGUA, chair of the African Women's Network raised a huge cheer opening the session when she told conference that the 44th anniversary of Kenyan independence from Britain was celebrated only the previous day.  But she had a serious message she wanted to deliver to the conference.
Many of the migrants who have come to Ireland to work and live are here to stay.  They want to make Ireland their home. They currently make up over 10 per cent of the population and they have contributed significantly to Irish social political and economic life.
Many migrants are working for very low pay and being exploited. There is institutional and individual racism as certain policies are discriminatory, she said, pointing out that asylum seekers living in direct provision only receive €19.10 per week and there was no increase in the recent Budget.
SIPTU's Polish Organiser, Kazik Anhalt, told conference that Poles are the largest minority ethnic community living in Ireland with close to 200,000 people. He said that Polish, Czech, Hungarian and other eastern European workers were not immigrants but full citizens of a united Europe. 
Kazik outlined some of the abuses that were evident in the employment of foreign workers: under-payment, lack of holidays, excessive working hours and unfair dismissals.
Employment legislation needs updating as these workers are denied full equality in the labour market from obsolete laws dating back to 1973, he said. They must be granted full workers' rights and entitlements. 
Mary Lou McDonald MEP described how we must manage the issue of immigration as one of our biggest challenges.
The reality of net inward migration is reflected in the recent Census and was happening throughout our communities.  Many of the stories of the new immigrants are strikingly reminiscent of our own stories, she said.
The question was how did we deal with this change, how would we manage the transition and create a model of integration that fits in Ireland.
"There was no room for the cancer of racism," she said. "It disfigures society and has no place in Ireland or in the party at any level."
She encouraged a policy of inter-culturalism and integration and while change is difficult there are also remarkable opportunities and benefits.
Public services were not meeting needs and the lack of social housing and school places are as a result of  a system's failure and not down to any individual.
There is a need to value cultural life and share our own cultural riches with new communities while learning to appreciate their norms and practices, the European Parliament MEP added
Creating an unstoppable campaign for health rights
SPEAKING immediately before the keynote address by Sinn Féin President Gerry Adams MP, Sinn Féin Dáil leader and Health and Children spokesperson Caoimhghín Ó Caoláin gave a detailed address on the health services and argued that real change can be achieved based on equality and excellence. He called for a broad-based campaign on healthcare rights.
He said:
"We need a coalition for equality and excellence in our health services, a coalition that will build up our public health system and harness the commitment and dedication of health services workers. It would be an alliance of those workers along with communities and patients' groups and everyone in our society concerned with building better and fairer health services."

An Phoblacht Magazine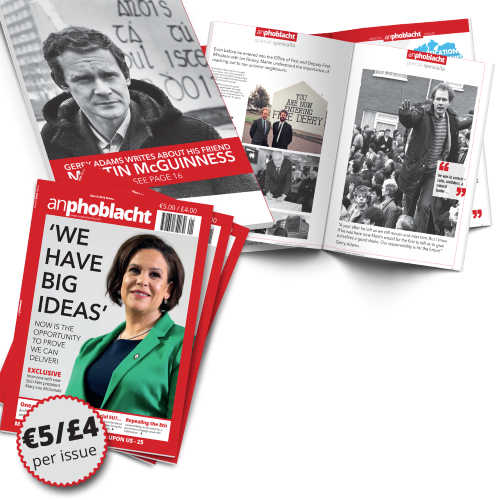 AN PHOBLACHT MAGAZINE:
The first edition of this new magazine will feature a 10 page special on the life and legacy of our leader Martin McGuinness to mark the first anniversary of his untimely passing.
It will include a personal reminiscence by Gerry Adams and contributions from the McGuinness family.
There will also be an exclusive interview with our new Uachtarán Mary Lou McDonald.
test