6 December 2007 Edition
Sinn Féin hosts World Aids Day conference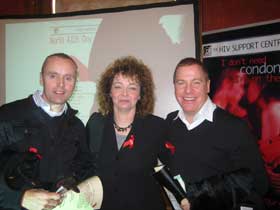 Sinn Féin Health Spokesperson Carál Ní Chuilín MLA hosted a World Aids Day conference in conjunction with the HIV support centre in Stormont on Saturday, 1 December.
Speaking before the event and before a symbolic 'balloon launch' with Sinn Féin Junior Minister Gerry Kelly on Friday, 30 November, at Belfast City Hall, Sinn Féin Health spokesperson Ní Chuilín said:
"I am honoured to host a conference which champions and highlights what is an issue of paramount importance. It is now our responsibility in the Assembly to raise awareness of issues such as this and to have a open and frank discussion.
"Last year, in the 32 Counties the cumulative total number of HIV infections reported by the end of 2006 was over 5,000. This is an issue of both local and global significance, which requires united action. There is also a continued need for greater awareness of sexual health and safe sex practices.
"Political leaders need to recognise the relationship between poverty, discrimination and HIV/AIDS, and the need to break the cycle of under-development, poverty and disease. The Assembly has a responsibility to address this growing crisis."