6 December 2007 Edition
Fifth Column
Willie's wheel wheeze
THE Markethill Globetrotter, Willie Frazer of the self-styled Families Acting for Innocent Relatives, has come up with another fun-packed idea to fuel his ego and fill his pockets – 'Terror Tours' of South Armagh so tourists can gawk at "sites of local atrocities". And it's all done in the back of old British Army armoured personnel carriers with Willie Frazer.
'The Humber Pig' (that's the actual name for the Humber APC – don't be naughty now) will roll out after Christmas alongside a Saracen and a Ferret Scout Car.
'Corporal' Frazer says:
"The tour will go around the whole area and if people want to go to Crossmaglen we will take them."
The tour will  also go to Narrow Water, Forkhill, right up along the border, Newtownhamilton, Whitecross, Bessbrook and Glennane, although Willie doesn't say if there will be any historical re-enactments of the Glennane Gang with RUC/UDR patrols changing uniforms as UVF death squads or vice versa.
"One of the things we made a commitment to when we started up FAIR was our commitment to tell the story of South Armagh from a unionist perspective," Willie says, before chirpily adding, in all seriousness:
"What better way to do it than inside an armoured vehicle?"
The UDR and Paras often used to tell me about the unionist perspective in the back of a Saracen, Willie. That's what the European Court of Human Rights is for.


Comical Willie
WILLIE insists that his fleet of former army vehicles are all insured "and have been tried and tested" by group members.
"It has been quite comical," Willie chortles, "because there have been local people stopping when they see us thinking we are part of a road check. But then when they see us they laugh their heads off."
But it's not just for chums of the UVF and the UDA, and some of the 80,000 British soldiers and UDR militia who have served in South Armagh. Willie wants to take nationalists for a ride.
"The tours will also give people from the nationalist community an opportunity to see living and working in South Armagh 'from the other side'."
Thanks but no thanks. Like I said, too many of us have been there, done that.


Canadian cops chase Irish Times
EX-ROYAL MARINE Richard Elkington's racist abuse of a woman in Canada, where he is serving as a police officer, has caused his senior officers some concern.
Elkington was part of a commando unit involved in the killing of South Armagh man Fergal Caraher and the wounding of his brother Mícheál in December 1990.
The Ontario Human Rights Commission has ruled that Englishman Elkington is guilty of racial discrimination against Canadian-born Jacqueline Nassiah, humiliating her and describing her as a "fucking foreigner" when she claims she was wrongfully accused of shoplifting. She was recently awarded $20,000 damages.
Now Elkington's new bosses in the Greater Sudbury Police Service are concerned about a report of their new recruit's offence – because The Irish Times managed to get a photo of the guilty officer.
Deputy Police Chief Elsner says he's worried about how Elkinton's mug-shot found its way to the Times and he's concerned for Elkington's safety "and the safety of all officers with Greater Sudbury Police" although it's not clear why if none of them have shot Irish civilians.
The local Sudbury Star newspaper said that police "asked the Irish Times to help them do some background work but so far they've been unsuccessful in getting any information".
Madam Editor Geraldine Kennedy withholding information from a lawful investigation? First the Planning Tribunal and now the police. It used to be only republicans that didn't recognise the courts. What is the world coming to?

Criminal charge
WHAT has probably got up the sniffy nose of Madam Editor (a former Progressive Democrats Dáil candidate, remember) is that the Sudbury Star describes her organ as "the nationalist newspaper, The Irish Times".
It's enough to make Fintan O'Toole's hair curl – again.


New model army
A BRITISH soldier who sped through an English town centre in his 4x4, hurling racial abuse, ploughing into pedestrians and leaving three Asian people in hospital will be sentenced on 13 December.
Royal Engineer Ben Mawdsley claims to have no recollection of the trail of carnage in June but a court was told how we was heard screaming, "You Paki bastards," while driving his car into people on the footpaths.
Meanwhile, glamour model and Celebrity Big Brother star Danielle Lloyd has flown out to Iraq to boost the morale of the British occupation forces.
A Ministry of Defence official told the Daily Star newspaper in England: "Anything that reminds our boys of home is wonderful  – and gifts from a Christmas cracker like Dani are sure to raise morale."
The former Miss England was thrown out of the Big Brother show after she joined Jade Goody and Jo O'Meara in racially abusing Indian actress Shilpa Shetty.
Lloyd said the Bollywood star should "fuck off home".
Oh, yes, Ms Lloyd should make soldiers like Engineer Ben Mawdsley feel right at home.


Kilbarrack barrack-busters
TIS the season for festive fund-raisers and the Shinners in Larry O'Toole's bailiwick of Dublin North-East are running a pub quiz with a prize that should have old Chucks, young Chucks and wannabe Chucks salivating and their trigger fingers twitching – not just a trophy but a paint-balling trip as well!
Yes, the winners will get to don battledress and masks, load up their guns and crawl through the muck and bullets to blatter away at various installations and enemy targets in an echo of those bygone days of laying siege to Crossmaglen Barracks (cue The Wolfe Tones singing The Sniper's Promise).
Fancy a shot? Rendezvous at 20:30 hours on Friday 14 December at The Foxhound Inn, Kilbarrack, Greendale Shopping Centre, Dublin 5 (five minutes from Kilbarrack DART Station). Cost €10 per person. Bring your own camo cream.
An Phoblacht Magazine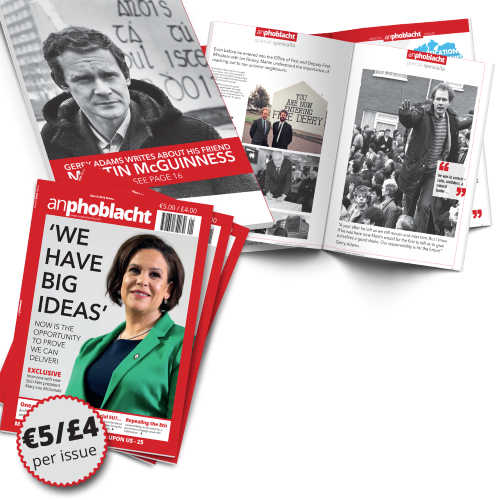 AN PHOBLACHT MAGAZINE:
The first edition of this new magazine will feature a 10 page special on the life and legacy of our leader Martin McGuinness to mark the first anniversary of his untimely passing.
It will include a personal reminiscence by Gerry Adams and contributions from the McGuinness family.
There will also be an exclusive interview with our new Uachtarán Mary Lou McDonald.
test