6 December 2007 Edition
Abbott job losses severe blow to West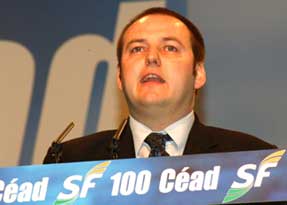 THE Abbott Laboratories factory in Galway is to close next year with the loss of all 500 jobs.
A company spokesperson blamed excess manufacturing capacity in its vascular division sites in Galway, Tipperary and Temecula, California. These sites manufacture stents which are used to improve blood flow.
Abbott has offices in Dublin, Donegal, Clonmel, Sligo, Longford and Cavan. The spokesperson said it was possible that between 50 to 100 of the staff could be relocated to other Abbott units. However, most workers will lose their jobs. The first to go are due to leave in mid-January before the closure is completed by September 2008.
Abbott has not officially recognised unions at the Galway plant but Michael Kilcoyne, branch organiser for the trade union SIPTU, said expected redundancy packages would be too low.
Kilcoyne said workers were "shocked, stunned and upset" by the development. "In most cases redundancy could be worth less than a year's salary, that's not good enough."
Parent company Abbott Laboratories, based in Illinois in the United States, currently employs 65,000 people worldwide.
In 1974, Abbott Ireland established two manufacturing facilities and has since added a further four more, pushing its Irish workforce to more than 3,000.
Sinn Féin Councillor Pádraig Mac Lochlainn has described the job losses as a severe blow for the county and the West of Ireland and called on the government to invest in the West to counter the effects of the job cuts.
"We recently had the launch of the IDA Report 2006 which included Abbott as an investment highlight of last year. The loss of 500 jobs shows how unreliable this kind of investment can be. This announcement is also badly timed, with only three weeks to go until Christmas. We can only hope that this is the sum total of the cuts and that the rest of the 3,000 Abbott jobs around the country are still safe."
The Donegal councillor said the West cannot sustain job losses, "Yet the Government refuses to build any kind of infrastructure that would attract new jobs to this part of the country."
Mac Lochlainn said there needs to be a co-ordinated strategy to tackle unemployment and ensure that investment into Galway and the West as a whole is prioritised by the Government.