6 December 2007 Edition
Media View BY FRANK FARRELL
The white man's burden
 THE Sunday Times published a fascinating account last weekend of the plight of white "aristocrat" settler, Thomas Patrick Gilbert Cholmondeley, son of the 5th Lord Delamere and heir to the largest estate in Kenya's Rift Valley, who claims he is the "victim of a new kind of bigotry".
Apparently, the 'bigoted' Kenyans are trying the Eton-educated aristocrat for murder and he stands accused of shooting a black poacher, Robert Njoya, on his 58,000 acre estate.
Adding to the aristo's plight is that local media have whipped up hysteria against the playboy settler – parallels have been drawn with the Happy Valley colonial set who lorded it in their white African paradise a generation ago – because Cholmondeley was also accused of murdering another black African, an undercover Masai game warden, just over a year earlier.
Happily for Cholmondeley, he was, on that occasion, acquitted for what The Sunday Times describes as "insufficient evidence". But, as that newspaper also recounts, when news broke of the second killing, a year later, "the uproar was predictable". Excitable, rum lot, these Kenyan chaps, aren't they? Time was when a dead African or two would not even merit a paragraph in dispatches from Our Man in Nairobi.


ONE has to congratulate The Sunday Times for its sensitive treatment of Cholmondeley, who is undoubtedly what British politicians in the 1960s used to refer to as 'kith and kin'.
The newspaper describes his "impeccable manners" and "soft voice", making it clear that he is a perfect (white) gentleman. The ST describes in detail the ordeal Cholmondeley is undergoing as "the only white man" in a Keynan prison(!), showing a compassion and charity towards prisoners everywhere that has been a hallmark of MI5's favourite organ.
Apparently, Cholmondeley was taking a walk with his "white [naturally] neighbour", a fellow called Carl Tundo, a safari rally driver whose nickname is 'Flash' (I swear) when the incident occurred. According to Cholmondeley, he fired only on Njoya's dogs, making no direct hit on the dead man and the whole thing was an accident. So that deals with the facts of the incident itself, right?  Which is where we come to the fascinating aspect of the story and its parallels with other tragic tales about decent settlers and what they have to put up with from uppity natives.
The REAL story behind the demonisation of poor Cholmondeley, according to The Sunday Times, is "years of simmering resentment over inequalities in land ownership". The newspaper claims "some believe that prosecuting Cholmondeley on a murder charge could unlock the title to the vast Delamere estates by forcing his family out of Kenya or obliging it to divest its land in the hope of more lenient treatment".
The colonial mouthpiece masquerading as an Irish newspaper (or 'Irish edition') quotes the heir to the largest estate in "Happy Valley" expressing his determination to fight the "deeply-held bigotry post-independence" and stay in the country. Plucky chap.


WHAT uncanny parallels there are in this tragic fable about ordinary, everyday colonists with the revisionist fantasies being told about the killing of the Pearson brothers in the Tan War in Offaly. According the RTÉ's Hidden History programme and the self-loathing Eoghan Harris, the Pearsons were like members of the Amish community and were murdered by Catholic bigots hungry for their land.
The programme makers declined to broadcast interviews with a Derry academic who described the documented detail of the Pearsons' shooting of two Sinn Féin members and later dismissed these accounts as mere rumours. Even though the fact of these shootings – one of the two died later from his wounds – is indisputable, Hidden History film makers and Harris insist on the remarkable theory about land hunger and ethnic hatred as the real reasons for the Pearsons killings – just as the apologists for the white aristocratic ranchers in Kenya condemn black 'bigots' for making a fuss over the killing of local black men.
Coincidence? Or history repeating itself with the same type of actors using the same lines to justify the same colonial behaviour?


SOMETIMES, reactionaries are much better at inadvertently putting the socialist case than real socialists. Take Sunday Independent columnists Ruth Dudley Edwards, darling of the Orange Order and devoted fan of MI5 bondage fetishist, Seán O'Callaghan.
Ruthie has been fighting a lonely battle to rehabilitate disgraced fraudster Lord Conrad Black, former media mogul, friend of neo-con warriors like Richard Perle, and a man who earned Margaret Thatcher's admiration.
Unfortunately, Black broke the rules or, more seriously, he got caught breaking the rules and was convicted last July of three counts of fraud and one of obstructing justice. He now awaits sentence.
Normally, you can count on Ruthie rushing to condemn criminality by blackguards and subversives and demanding that the rule of law be applied with severity. Not so with Lord Black, who is a toff and therefore, Edwards believes, is beyond penal retribution. I do not exaggerate.
Ruthie has been writing virtual poetry about Black in recent editions of the Sunday Independent and recently ended an article on the white-collar criminal as follows:
"Come on, be generous. This guy has class. He's lost his business and his fortune. Do you really want him to spend the rest of his life in an orange jumpsuit?"
Always remember this: white-collar crime is not really crime at all; real crime is for the working class.
An Phoblacht Magazine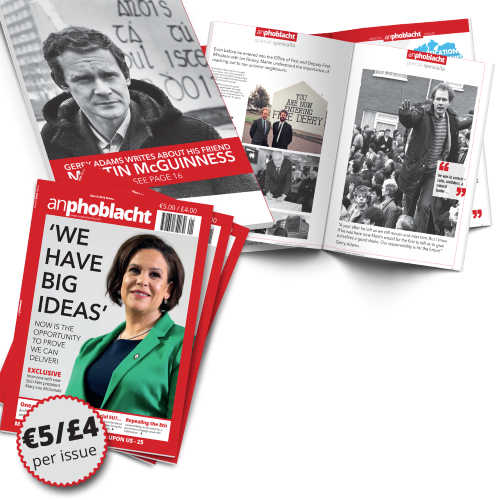 AN PHOBLACHT MAGAZINE:
The first edition of this new magazine will feature a 10 page special on the life and legacy of our leader Martin McGuinness to mark the first anniversary of his untimely passing.
It will include a personal reminiscence by Gerry Adams and contributions from the McGuinness family.
There will also be an exclusive interview with our new Uachtarán Mary Lou McDonald.
test