6 December 2007 Edition
PSNI challenged at Belfast DPP meeting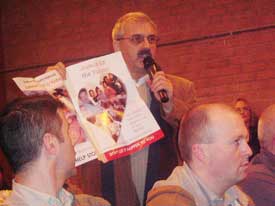 THE PSNI was challenged over collusion between the RUC and loyalist killers at the first-ever meeting of a District Policing Partnership in West Belfast on Thursday night, 29 November.
Many senior republicans from the area who attended the meeting were met by a small protest organised by members of the IRSP. There had been speculation that members of micro groups were planning to disrupt the meeting but any protest they may have been planning failed to materialise.
The meeting in Beechmount Leisure Centre saw senior PSNI officers fend off questions from the audience about the killings of human rights solicitor Pat Finucane in 1989 and IRA Volunteer Pearse Jordan, who was shot dead by an undercover RUC squad in 1992.
Seamus Finucane, a brother of Pat Finucane, quizzed the PSNI's top man in West Belfast, Gary White, about the RUC and British military's involvement in Pat Finucane's killing. White, however, replied that he couldn't answer any questions relating to the killing.
Reacting to White's evasiveness, members of the audience told him that the PSNI's efforts to police nationalist areas in partnership with the people would come to nothing if the PSNI wasn't able to answer for its past actions.
Mark Thompson, of Relatives for Justice, questioned the PSNI over the scandal of RUC members who retired from the RUC to avoid scrutiny by the Police Ombudsman's office but were re-employed by the PSNI as civilian workers.
Again the question was met with a stock answer that was short on information about the role these former RUC members are filling in sensitive areas such as West Belfast.
Other issues, such as the PSNI's attitude to anti-social elements in the area and their response times to crime in West Belfast, were also raised.