6 December 2007 Edition
Murphy calls for 'soldier spy' claims to be investigated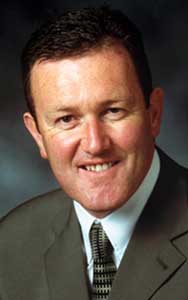 CLAIMS made at the weekend by a man who says he is a former British soldier involved in covert spying operations against republicans for Military Intelligence after the Good Friday Agreement must be investigated, Sinn Féin Minister Conor Murphy has said.
Murphy was speaking after the unidentified man met with Mark Thompson of Relatives for Justice in their West Belfast offices. He also spoke to journalists from two Belfast-based newspapers. He told them that, despite public declarations from the British Government that it was pulling its soldiers out of the North, it continued to mount covert surveillance operations on republicans in West Belfast and South Armagh.
The former British soldier, who served with the Devonshire and Dorset Regiment, also disclosed that Covert Observation Platoons (COPs) carried out operations in the north Louth town of Dundalk right up until 2003  – five years after the signing of the Good Friday Agreement.
The former intelligence operative told the journalists how COP units planted cameras across the Black Mountain overlooking Belfast and in the hills in South Armagh at the behest of the RUC Special Branch.
"These allegations raise very serious questions about the attitude of the British Government to the Peace Process if they were sanctioning intelligence gathering in the North up to 2003," Conor Murphy said.
Mark Thompson, commenting separately on the claims, added:
"It shows that while many are involved in the role of peace-building the mind-set of the British Army is still one of hostility and war."