6 December 2007 Edition
Sinn Féin conference - declaration of intent
The Sinn Féin party throughout the 26 Counties has just come through a hugely intensive period of internal consultation following the general election. That consultation process, which allowed each and every member to participate, has set a course for Sinn Féin in the 26 Counties over the next few years. The party will hold a major conference this weekend in Dublin.
There are major challenges ahead. There is a huge need to build the party, to widen the appeal of Sinn Féin and to increase support for our objectives. A geographically representative, recognisable, 32-County Sinn Féin leadership must be built and promoted.
Work has already begun on the ground, throughout the state to ensure that the Sinn Féin organisation is fit for purpose as it faces into the challenges of an EU Treaty referendum in 2008 and local and European elections in 2009. Party activists are determined to build grassroots campaigns in every singe county on issues such as healthcare, education, childcare, public transport, the environment, quality of life, community safety and the economy in the time ahead.
Sinn Féin intends to further develop its profile on issues such as enterprise, small and indigenous businesses, job creation and job sustainability.
The frontline of the struggle has decisively shifted South. Increasingly, republicanism needs to connect to the daily lives of ordinary people, North and South. Sinn Féin must become synonymous with accountable representation and effective delivery for communities throughout the country.
The objectives of a united Ireland built on the principles of equality and real social justice have yet to be realised. Sinn Féin is the only effective political vehicle that can achieve this. The party is now represented in every democratic assembly in Ireland – Dáil, Seanad, Six-County Assembly and Executive, the All-Ireland Ministerial Council as well as county and town councils and Udarás na Gaeltachta. The party is also represented at European level in both parts of the island. We must now consolidate and build upon our political and electoral strength. To achieve our objectives we must be bigger, stronger, more effective and more representative.
This weekend will see hundreds of Sinn Féin members from all over Ireland – North and South, urban and rural, young and old, women and men – coming together in a positive and determined frame of mind to declare publicly that the year ahead will mark a significant advance in the republican struggle. The conference is open to all Sinn Féin members who are strongly encouraged to attend what should be a historic and defining event.
An Phoblacht Magazine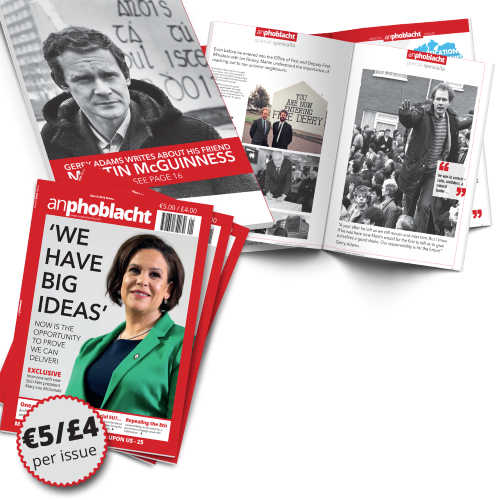 AN PHOBLACHT MAGAZINE:
The first edition of this new magazine will feature a 10 page special on the life and legacy of our leader Martin McGuinness to mark the first anniversary of his untimely passing.
It will include a personal reminiscence by Gerry Adams and contributions from the McGuinness family.
There will also be an exclusive interview with our new Uachtarán Mary Lou McDonald.
test