6 December 2007 Edition
Keep disability issues on political agenda - Mary Lou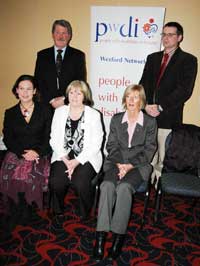 To mark European Disability Week in the South-East, Sinn Féin MEP Mary Lou McDonald travelled to Enniscorthy in County Wexford on Monday to take part in a lunchtime talk at the invitation of the Wexford network of People With Disabilities in Ireland (PWDI) in the Riverside Hotel on the banks of the Slaney.
Mary Lou was accompanied by Wexford Sinn Féin councillors Noirin Sheridan, Maurice Roche and John Dwyer.
Speaking at the well-attended event along with educationalists and disability campaigners from across the region, the MEP noted that 50 million people in Europe are living with a disability and in Ireland the figure is one in ten.  Addressing a core issue of concern to those attending, education provision,  Mary Lou McDonald pointed out that children with disabilities are twice as likely to drop out of formal education as other children and that 40 per cent of third-level graduates fail to get employment after graduation.
"Access, services and development need to be tackled in a joined up way," she said.  "As elected representatives to the European Parliament we need to ensure that the demands of citizens are listened to.
"We all acknowledge that early intervention is crucial.  But in this country we haven't matched that acknowledgement with investment.  We need to keep these issues on the political agenda.  Political change will be driven from the ground up. That is why advocacy and your role here is so important."
Referring to comments made by Catherine Quigley of the Wexford network of PWDI, who expressed great concern about the education system, which she said "is failing our children", the Sinn Féin MEP  said: "At the end of the day, we have a simple choice – do we make the 1916 Proclamation which sought to cherish all the children of the nation equally a reality or do we leave it as empty rhetoric?
 "I would hope that by 2016, the 100th anniversary of the 1916 Rising, that we have these things in place; that we recognise people's rights and that we provide the resources and action to make it happen."
Other speakers  at the Enniscorthy meeting included Pat Goff, a primary school principal in Wexford, and Paula Carolan of the County Wexford Education Centre. They  talked of recent welcome changes and developments in education provision and support for teachers but acknowledged that a lot more needed to be done.  Referring to his experience, Pat Goff said his school has changed very much for the better with the addition of special needs teachers.
"Since 1998. the whole culture had changed," he said. However, he cautioned against any attempts to row back on the progress already made.  In a message clearly aimed at this week's Budget allocation to education, he said:
"Economically, it makes sense to put resources into early educational needs but there is a fear that in today's economic climate that funding for special needs would be hit first."