29 November 2007 Edition
Media View BY ROBBIE SMYTH
When No means, maybe, Yes
Things have changed. This week we have conclusive, or to use that favourite tabloid term "exclusive", proof that the world has turned upside down, inside out, pick your own term. In short the last week has shown that no means yes. Our proof comes from the world of television, radio, newspapers and the ever growing and omnipotent internet.
The first witness for the prosecution is media coverage of the vexing questions of who will the next England, Ireland, Scotland football managers be. Irish soccer god Martin O'Neill came out quite publicly last week to say that he wasn't interested in the job.
The Guardian on 23 November reported that O'Neill had said "It is a straightforward decision for me to make. I want to be at Villa. I love the job and this is where I want to be". It couldn't be any clearer then could it?
The following day's English Independent took this to mean something different with the headline "O'Neill committed to Villa but offers FA a glimmer of hope", and this Monday's Daily Express touted that, "O'Neill still top of the list" or what about the Scotland on Sunday headline which warns "Don't rule out O'Neill for England job just yet".


No meaning maybe or just plain Yes is nothing new in the world of politics, but when a politician says that definite No, what does he or she really mean? This week it's Brian Cowen who is in the No/Yes camp.
Just over a month ago, the Fianna Fáil Finance Minister took up valuable column inches in the Irish Times to tell us how this year's budget was going to be different. "Exchanging mystique for clarity in the annual budget ritual" was the title of his 18 October article where he wrote that "All new spending and taxation decisions will be made as one and announced on budget day".
Brian, we believed you, so why did last weekend's Sunday Business Post front page claim "budget to cut red tape for Irish businesses"? Brian, I thought we had something special but the Sunday Times front page reveals that "Cowen tax change will punish luxury cars", and even the normally tight lipped Sunday Independent page one headline proclaimed "Revealed: what budget will meant for tax on new cars". How many people are in this relationship Brian?


While we are on talking about the Sunday Independent, can I launch our new campaign to free the 500 hostages held in a secret location by Indo phone pollsters. This week the 500 told us that 66% believe we are heading for a recession, 52% believe that benchmarking of public pay should be abolished, 34% blame Mary Harney for the cancer scandal, 66% blame the HSE.
On November 11 the question was should Bertie Ahern stand down soon, 59% said "go sooner", 44% preferred Brian Cowen as the next leader of Fianna Fáil. And it goes on.
So who are these 500 people who week to week have become the touchstone for the Indo's political analysis and commentary. According to the paper, every week 500 people are phoned at random to by "professional researchers, using questions compiled by the editorial team of the Sunday Independent".
It is not clear if the indo poll meets the guidelines suggested by the Association of Irish Market Research Organisations and ESOMAR, the World Association of Opinion and Marketing Research Professionals and so none of the now weekly indo polls may be statistically representative.
Tns MRBI, Red C and IMS Millard Brown, Lansdowne Marketing who all poll regularly for the Times, Tribune, Sunday Business Post and even the Sunday Independent meet the ESOMAR standard and charge possibly more for their services than it costs for the Sunday Indo to conduct their weekly poll.
For now though it seems that the torture of the 500 will continue.


Finally for those of you who took sadistic delight in the Euro 2008 ignominy of English soccer last week and want to relive the moment again and again, look no further than YouTube where there are numerous versions of England's humiliation, complete with rousing Croatian anthems.
You can also see such gems as the exit of England from the 1974 World cup, losing to Poland in 1973, have a look at http://youtube.com/watch?v=0iRgLQxJ-J0 or just put "England Poland 1973" into the search box. Be warned repeated viewing may give you a distorted view of reality!

An Phoblacht Magazine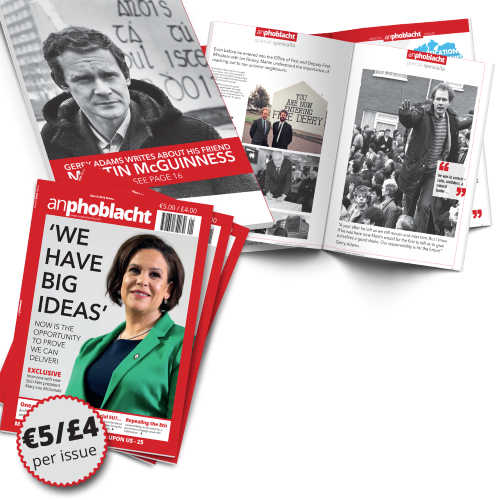 AN PHOBLACHT MAGAZINE:
The first edition of this new magazine will feature a 10 page special on the life and legacy of our leader Martin McGuinness to mark the first anniversary of his untimely passing.
It will include a personal reminiscence by Gerry Adams and contributions from the McGuinness family.
There will also be an exclusive interview with our new Uachtarán Mary Lou McDonald.
test