29 November 2007 Edition
Reid Transport crash worries workers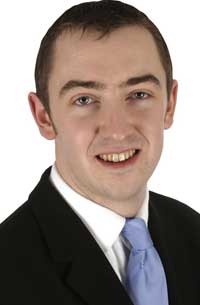 BY STEPHANIE LORD
NEWS emerged this week of outrageous work practices at the Reid Transport haulage firm in County Antrim. The Cloughmills company collapsed last week along with the loss of 200 jobs. Workers owed back-pay claim that some staff had been working up to 70 hours per week for a company estimated to be £3.3m in debt.
Administrators at Reid's, Pricewaterhouse Cooper, have said that those employees who are owed wages will be paid before Christmas but they have refused to engage in any meetings with an employee representative committee.
Sinn Féin MLA for North Antrim Daithí McKay insisted on the staff owed back-pay being paid as a priority and warned:
"Too often in cases like this, the administrators take a huge chunk of the assets for their costs and after the banks and other creditors take their share there is little left for the employees or indeed the sub-contractors, many of whom are owed thousands of pounds."
The workers conducted a blockade of the company premises up until Friday afternoon and have since resumed this as a result of increasing doubts as to whether the employees will be paid owed wages or not. Many of these workers have indicated that they are not confident that they will be paid at all.
The directors of the company, Liam and Shaun Reid, have not been seen by the workers or the administrators since the company's crash and an investigation is being conducted as to the reasons behind it.  Seán Smyth from the Transport and General Workers' Union said that the company has acted "disgracefully" and that many of the workers feel "betrayed" as, only five weeks before Reid's collapse, Liam and Shaun Reid had issued official letters to staff declaring the safety of their jobs. Any of the rumours that the company's financial position was precarious were "malicious" and "unfounded", they claimed.
The devastating news of the company's collapse comes only weeks after the Seagate plant closure in Limavady with the loss of 900 jobs.