29 November 2007 Edition
Regaining Momentum: The Sinn Féin fightback in strategic context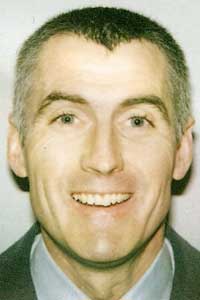 We don't 'do' setbacks

BY DECLAN KEARNEY

TWENTY years ago, Sinn Féin conducted an extended internal process of analysis and debate nationally about the oncoming phase of struggle. This period of discussion was a backdrop to the leadership's focus upon formulating Towards a Lasting Peace. The context of that process helped to foment the politics which shaped the party's evolving peace strategy and the putative negotiations leading up to the 1990s.
It was a seminal period and some of the conferences and meetings held were historically defining. They helped to mould the future of modern-day republicanism. This was also a dark period. The London and Dublin establishments launched a new offensive against Sinn Féin with the Hillsborough Agreement in 1985. Subsequently, the late 1980s witnessed the reorganisation and rearming of unionist death squads by the British; increased state repression in the 26 Counties and the launch of Operation Mallard; Loughgall and Gibraltar; and much else.
Republican activists faced into this storm with a renewed counter-offensive. The IRA's armed struggle intensified. Sinn Féin pursued its broad front strategy. Irish-America was mobilised in an unprecedented way. And from all this developed the embryonic nationalist consensus. Eventually, at the turn of the 1990s, the long phase of political negotiations began.
Albeit that present-day conditions of political struggle are entirely different to 1987 (today activists are harnessing the dialectic of the new mode to the forward momentum of republicanism) there is, nonetheless, a parallel between these periods.
In 1985, Margaret Thatcher and Garret FitzGerald had resolved to politically and militarily defeat republicanism. Some months ago, after the Southern general election, individuals in the Fianna Fáil leadership began to speak openly of a plan to crush Sinn Féin.
The election was a setback for us. It caused a pause in our momentum. But it has also created a false context for the Fianna Fáil leadership to presume they can crush these generations of republicans, North and South, if they believe their own rhetoric. Those individuals would do well to remember the old fashioned saying that one should only pick battles that can be won.
Sinn Féin's vision and republican aims remain coherent and intact. This year, however, the frontline of the struggle for independence moved south. For this strategic reason, just as 20 years ago, political activists need new strategies, tactics and work-plans to meet the challenges facing republicanism.
So now we need to consolidate our gains and, from solid ground, prepare the beachheads from which to mount a massive fight-back in the 26 Counties against all those forces opposed to the republican alternative. At the same time we have to maximise the impact of republican politics at all levels in the North.
In due course, we may look with hindsight upon the internal conference in Dublin on 18 November, Regaining Momentum, as equally historically defining. It was certainly a landmark political meeting. It climaxed over four months of analysis and planning in the South. Now, however, the analysis must give way to action.
Our strategic imperative in this state must be to regain momentum, to ensure our project stays on course, and to bring increased energy and urgency to the launch of the fight-back. These generations of republicans don't 'do' setbacks. We turn adversity into opportunity. That's the tradition we come from. Our opponents can get lucky but the nature of modern struggle means we have to make our own luck. And we do that with consistently improving planning and organisation and combining that with discipline and single-mindedness.
So, the die is cast for a new phase of long-haul struggle. This isn't push-over politics and there are no short-cuts to the Republic.
At Bodenstown, in 1977, Jimmy Drumm exhorted republicans to prepare for a long war of political and military attrition; 30 years later, we as activists, committed to political and democratic programmes and strategies, need to adapt to a new phase of struggle.
The internal conference established a clear ideological, political and strategic consensus for this new phase. It outlined the strategic framework and work-plan with which to regain momentum.
However, its achievement is completely conditional upon building a party which is fit for purpose. Coherent politics and modern policies are just that without a party machine to recruit the popular support towards their implementation.
An urgent commitment is required to modernise our existing organisation, to inculcate a new political culture and discipline within Sinn Féin and to implement the strategic plans prepared in every cúige region. We must scientifically build party structures across every county in the South – and also in the North. In 2008, we need to systematically recruit new party members from across Irish society and create republican support networks within every community.
Sinn Féin needs to be woven deep into the fabric of Irish society. Modern republicanism has to become synonymous with community life and a champion of the 'real world' issues. Community-based republican politics need to become established as a new commonsense in society. It has to articulate the needs of modern Ireland and become manifest through campaigns and alliance building which possess the critical mass to change the balance of power and deliver real change.
Jimmy Drumm's Bodenstown speech looked towards a better Ireland. The peace process has been a catalyst for bringing that closer.
Republicans presently possess more political power than ever. But the level of political power we attain, and the change this achieves, will be directly proportionate to the political strength and influence of Sinn Féin in wider society. So, we have much more to do and against great odds.
Yet consider for a moment what has been achieved with the limited size of our activist base. Now imagine what's possible if Sinn Féin gets bigger and better organised in every county.
National political power will remain elusive and the caché of dreamers while we stay small – like the proverbial sprick to catch a whale. And we will remain vulnerable to all those who aspire to crush this struggle.
On the back of the Regaining Momentum conference in Dublin we all need to reimagine the trajectory of republicanism and internalise what's needed to make Sinn Féin fit for purpose. We need to become smarter and begin thinking much bigger.
Pearse wrote: "What if the dream come true?" This coming year, 2008, is the year that we must lay unshakeable organisational foundations to ensure the dream does indeed come true.

An Phoblacht Magazine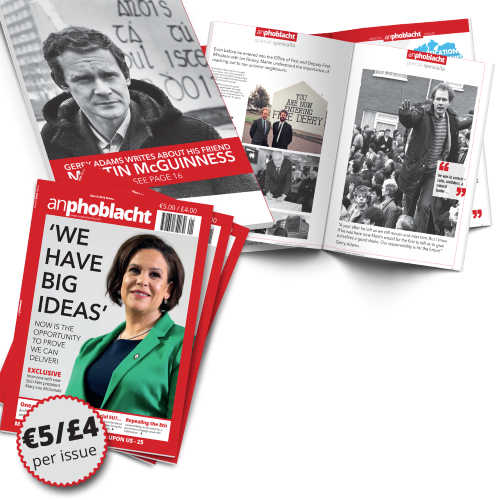 AN PHOBLACHT MAGAZINE:
The first edition of this new magazine will feature a 10 page special on the life and legacy of our leader Martin McGuinness to mark the first anniversary of his untimely passing.
It will include a personal reminiscence by Gerry Adams and contributions from the McGuinness family.
There will also be an exclusive interview with our new Uachtarán Mary Lou McDonald.
test