22 November 2007 Edition
Media View
Ignoring bloody record of loyalism
When the media goes into overdrive on a particular issue it invariably reflects the obsession of the establishment in pursuit of a political goal. The latest issue dominating the media is the need for reform of the public service or, in common translation, the need to tame the unions that happen to be stronger in the public service than elsewhere.
Dublin bus workers were recently expected to work longer hours and depicted as unreasonable Luddites for resisting management decree. At the same time, Aer Lingus delivered workers with a William Martin Murphy type demand to commit themselves to no industrial action or be sacked in an obvious attempt to crush the unions.
In this situation it beggars belief that RTÉ's Questions & Answers should come up with the question: "Are SIPTU trying to ensure Aer Lingus cannot compete", for its audience and panel last Monday. Chairperson John Bowman tried hard to heckle and divert SIPTU official, Patricia King, when she outlined the basic rights and wrongs of the case from a trade union perspective but King stuck to her line, providing a rare dose of common sense and fair play into the media's treatment of industrial relations.
That the unions stood up to such bullying efforts to railroad through a deterioration in working conditions says a lot about the argument – actually its an argument that's been around for several decades – namely, that the working class has disappeared and we are all middle class now. This argument is usually put forward by genuinely middle class people with genuinely middle class salaries who want to make sure that working people continue to subsist on working class incomes.
The coverage of the 26 County Labour Party conference by Jim Downey, a former member of the party and a man who should really have been born into the British Labour Party in the 1950s, was a good example of this mentality. Downey appeared to be angry that the union leaders, as described (and denounced) by Labour leader Eamon Gilmore and senior TD Willie Penrose at the party's recent conference, had moved closer to Fianna Fáil than Labour. The second thing annoying Downey was that the unions have managed to protect their members' pay and conditions by means of a partnership agreement with Fianna Fáil in government.
Downey argued that Labour should break the link with the unions in order to become a truly middle class party, failing to acknowledge that this turn to the right has already taken place and was why Labour had lost the union leaders to Fianna Fáil in the first place.


Never, ever, criticise your columnist for failing to carry out diligent, painstaking research on behalf of readers. A recent article by Fintan O'Toole spurred this hack to search the Irish Times archive, a rewarding journey which showed that in the last ten years, there are no less than nine – that's nine – references to Fintan O'Toole's writings on the UDA. Strangely there are many, many more references to Fintan's musings (condemnations, actually) of the IRA - 153 to be precise.
Of the nine references to the UDA, most are concerned with the appalling behaviour of both the UDA and the IRA, while most of the 150-odd mentions of the IRA are condemnations of the IRA alone. Where Fintan does pick on the UDA exclusively, he manages to link its sectarian slaughter to the peace process. Apparently, the peace process institutionalises sectarianism. Presumably, O'Toole – aswell as those other 'socialists' Eamon McCann and the SWP who dreamed up this reactionary theory – are against any form of positive discrimination as it institutionalises such discrimination.
In O'Toole's analysis of loyalism there is no mention of British military and intelligence manipulation of loyalist gun gangs; nor is there any mention of the basic political factors that produced loyalism. In a quite fantastic article on Johnny Adair, O'Toole even contrives to argue that Adair has no connection with loyalist traditions because he relies on Tina Turner ('Simply the Best!') for inspiration rather than the British national anthem or Rule Britannia.
A fortnight ago, Fintan wrote of the UDA's declaration that their war was over with an article that began with alleged IRA persecution of SDLP member, the late John Fee and went on to sneer at the recent 50th anniversary commemoration of the Edentubber Martyrs before ending with another reference to Fee, as if he had been killed by the IRA. In between, O'Toole managed to condemn the UDA for their murderous campaign against Catholics in a rare critique that Fintan may imagine protects him from the charge of effectively ignoring loyalist violence against nationalists (and completely ignoring British state violence against all Irish people) for the last 25 years. Unfortunately the record shows otherwise as does O'Toole's long association with firstly the Workers' Party and then the Labour Party.


Hold the front page! Crusty journalist Diarmuid McDermott, told RTÉ radio listners recently that he had once been a republican supporter but that he is no longer so. Could the little-known, pub non-republican answer one question: Eh, how will we tell the difference?

An Phoblacht Magazine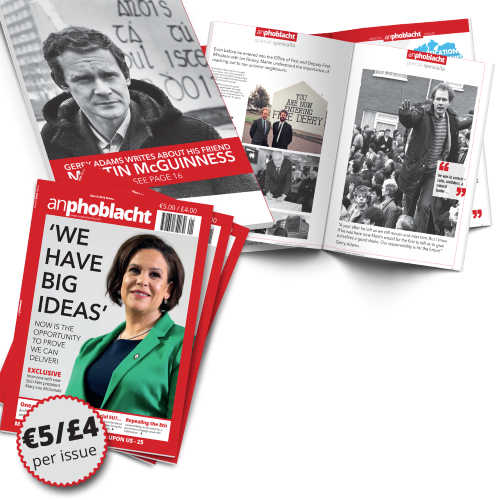 AN PHOBLACHT MAGAZINE:
The first edition of this new magazine will feature a 10 page special on the life and legacy of our leader Martin McGuinness to mark the first anniversary of his untimely passing.
It will include a personal reminiscence by Gerry Adams and contributions from the McGuinness family.
There will also be an exclusive interview with our new Uachtarán Mary Lou McDonald.
test