15 November 2007 Edition
Ferris raises EPA Corrib decision in Dáil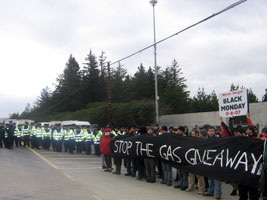 CAMPAIGNERS against the Shell gas refinery in County Mayo are vowing to appeal a decision by the Environmental Protection Agency (EPA) to grant a licence for the project.
The EPA approved the licence on Tuesday subject to 90 conditions. The Shell to Sea group has said the decision is "flawed".
Mary Corduff, whose husband Willie was jailed two years ago for his opposition to the pipeline, said she was "disappointed but not surprised" by the decision.
She said there is a possibility the ruling will be appealed to Europe where Ireland "does not have the best record as regards environmental protection".
The Sinn Féin Spokesperson on Natural Resources and the Environment, Martin Ferris TD, has voiced his regret over the decision to grant a license to the Corrib Consortium to proceed with the planned gas refinery at Bellinaboy.
Ferris raised the issue in the Dáil on in an effort to have the issue debated, particularly in the light of the Green Party's previous opposition to the sitting of a refinery at that location.
"I and many others are disappointed that the EPA has given the go ahead for the refinery but I am not surprised. It was previously pointed out that the terms of reference given to the Agency were too narrow and that many important aspects of the proposal did not therefore fall under its remit", Deputy Ferris said.
"It is strongly believed by many, including local residents, that a refinery at this location fed by a high pressure pipeline will present a real danger not only to the local population but to the natural environment. As I understand the situation, the case against the refinery will now be taken to Europe where it is hoped that the proposal will be subject to the strictures contained in a number of EU Directives", he said.