15 November 2007 Edition
International : Sinn Féin at Europe-wide event for Venezuela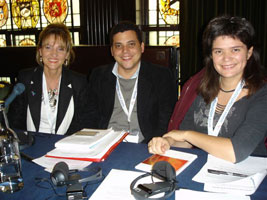 Backing the Bolivarian revolution
BY JAYNE FISHER

MORE THAN 200 delegates from across Europe met in London last weekend for the first pan-European conference to support democracy and social progress in Venezuela.
Some 12 different countries were represented by cross-party delegations from the European Parliament, national parliaments, mayors, trade union leaders and representatives from social movements from Belgium, Britain, France Germany, Greece, Italy, Portugal, Spain, Sweden, Switzerland and Ireland. A high-level delegation from Venezuela included leading MPs and representatives from the Ministry of Foreign Affairs. From Sinn Féin, Assembly members Martina Anderson and Raymond McCartney attended.
Many speakers throughout the day made reference to the hugely positive social changes which have taken place in Venezuela and the policies of the Chavez government to shift wealth and power in favour of the poor minority, introduce free health care and education to millions, and bring the most marginalised sections of society into politics through political and economic empowerment. A new raft of constitutional changes seeks to deepen this process and will be voted on in a referendum on 2 December.
The conference was opened by London Mayor Ken Livingstone. He said:
"The breadth of representation at this conference is a sign of the extraordinary impact which President Chavez's programme of radical social and democratic reform is having throughout the world.
"Anyone who suggests there is any kind of authoritarianism in Venezuela should just go to see the Venezuela Youth Orchestras which have turned hundreds of thousands of young people from the shanty towns into the most exciting classical music movement in the world today."
He said Venezuela is now debating "a new series of constitutional reforms to strengthen democratic participation". He said the conference was "a great opportunity for people across Europe to work together to build stronger links with the people of Venezuela and to explain the enormous progress they are making in improving life in their country".
Temir Porras, chief of staff to the Venezuelan Ministry of Foreign Affairs, said the conference was "a qualitative leap forward in relations between the people of Venezuela and Europe" and would be "a big help to Venezuela's goal of building international relations based on principles of solidarity and mutual respect"
Sinn Féin's Martina Anderson, who spoke on a platform with European MPs and MEPs, received the warmest applause and cheers from delegates at the conference, as she stood up to speak. The chair introduced her as representing "the longest struggle against colonialism in history – the 800-year-long struggle for Irish freedom".
In her speech she welcomed the opportunity to be part of an engagement between Europe and Venezuela and "to hear the hugely exciting developments which are taking place there". She said the Bolivarian constitution, voted on in referendum, had "enshrined the rights of minorities, the indigenous people, the rights of women, all of whom have been disadvantaged and discriminated against". She added:
"Venezuela has gone further and those who have been denied rights have been empowered through social programmes to realise their rights."
"Back home in Ireland, we in Sinn Féin are engaged in the transformation of our own society and in the advancement of our own sovereign and democratic rights – that of the Irish people to self-determination."
She pointed to Gerry Adams's recent speech in London where he traced the recent history "of our anti-colonial struggle, which began with the civil rights marches – for housing, jobs and for the vote" and which progressed up until the peace process today. She added:
"The Good Friday Agreement has been central to progressing the transformation of our society. It established a statutory obligation on all public authorities to address discrimination, to consult and monitor legislation and to provide equality. Of course, this is and remains aspirational and we need to make these real."
She said that what was being done in Venezuela was "impacting on our hope in Ireland" and said:
"All of us can learn lessons and draw from what is happening. I urge everyone to work together to advance a human-rights-based society which progresses and relies on participatory institutions of government, through which it is possible to build peaceful relations and trade relations to our mutual advantage."
The Sinn Féin representative continued:
"In most conflict reconciliation processes, the most marginalised have been left behind. Our job in Sinn Féin is to ensure that this does not happen in Ireland and what you are doing inspires us.
"We all can unite with our common humanity and advance the social justice agenda which you are driving forward."
A series of sessions and discussions at the conference addressed issues of the economic alternatives to neo-liberalism, international relations and global justice, culture, environment, social movements and civic society, the trade unions and the media.
Many speakers touched upon the need to counter the negative right-wing propaganda offensive against Venezuela and to ensure that the truth and the positive message of what Chavez's government is actually doing is communicated to people.
One important immediate issue is the constitutional reform on which Venezuelans will vote on 2 December. The measures include plans to deepen democracy through thousands of grassroots community councils which will be given constitutional status as part of the reforms, and direct access to financial resources from national government, to administer locally. The councils are particularly important in ensuring the poorest and most marginalised – who comprise the majority of society – have real democratic power. The missions, which have played a key role in implementing the educational and health advances, are also to be given constitutional status under the plans. Additional proposals will make it unlawful to discriminate on grounds of sexual orientation, extend further rights for Afro-Venezuelans and the indigenous people, and a six-hour working day will also be introduced.
A statement was issued by delegates calling for the outcome of the referendum to be respected and for support for "the sovereign and democratic right of the Venezuelan people". Elected representatives and others are being asked to support it.