15 November 2007 Edition
Gildernew rejects calls to abolish Agricultural Wages Board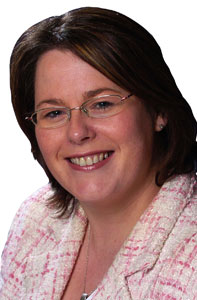 Retention of the Agricultural Wages Board (AWB) is key to protecting the rights of agricultural workers in the North. That was the main message from Sinn Féin Agriculture and Rural Development Minister, Michelle Gildernew to Assembly members during the week.
Gildernew's statement follows a recent vote in the Assembly, supported by the main unionist parties but opposed by Sinn féin and the SDLP, to abolish the board.
The Agricultural Wages Board sets a minimum wage rate for agricultural employees over a range of grades. It also sets holiday pay and entitlement, sick pay, and the maximum charge that an employer may make for accommodation provided to employees. It comprises 15 members: six are nominated by the Ulster Farmers' Union, representing employers; six are nominated by the Amalgamated Transport and General Workers' Union, representing employees; and three are independent members.
The board has no staff, and does not expend a budget. Board members do not receive a salary, but receive attendance fees and travel expenses amounting to less than £5,000 for the year 2005-06.
In response to a question on Monday from the Alliance Party's David Ford about the possible abolition of the board, Gildernew said:
"Abolition of the board would place agricultural workers here at a disadvantage when compared with workers elsewhere on these islands. I do not believe that it is in the interests of the agricultural industry to allow the North to become, as suggested by the ATGWU, the 'sweatshop' for agricultural workers on these islands.
"I reject the call to abolish the board. I am not prepared to sacrifice the rights of low paid workers or the protection of migrants because of the lobbying of employers or because of the partisan position of assembly members in this chamber. I stand by my decision."
In the earlier debate Gildernew explained that contrary to criticism from some quarters that the board merely retained a layer of unnecessary bureaucracy, it in fact protects the rights of agricultural workers.
Gildernew stated that she was not prepared to put agricultural workers in the North at any further disadvantage to others elsewhere by abolishing the only mechanism that currently exists to protect their rights.
Concerning the issue of bureaucracy, the minister reiterated her commitment to a 25% reduction in red tape by 2013, emphasising that this would not be at the expense of vulnerable workers' rights.