15 November 2007 Edition
McGuinness dismisses 'unrepresentative' micro group as police shot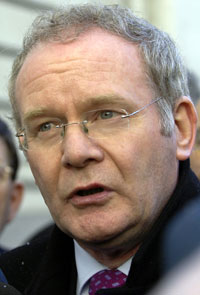 SPEAKING directly to the micro group which claimed responsibility for the shooting of an off-duty policeman while leaving his child to school in Derry last Thursday, 8 November, Deputy First Minister Martin McGuinness said they should wake up to the reality that the war is over.
The Sinn Féin MP said:
"As far as the vast majority of the community is concerned, the war is well and truly over. It is time you – a totally unrepresentative group – woke up to that reality. In the real world, you have no popular support, no strategy to achieve a united Ireland."
McGuinness went on:
"Threatening Martin Meehan, a real and courageous soldier, in the hours before his death, coupled with your latest threats against the community which overwhelmingly rejected your warped analysis at the polls last March, graphically illustrates how detached from reality you really are.
"We who stood against the injustices and the military forces which imposed those injustices have one clear message: We will not be intimidated."
McGuinness later condemned the shooting of an off-duty police officer in Dungannon, County Tyrone.
"I totally condemn the shooting of an off-duty police officer this evening in Dungannon. Anyone with information regarding this shooting or the one last week in Derry should bring it forward to the police.
"Those responsible are attempting to plunge our society back into conflict. I am confident that the vast majority of people here will ensure that this does not happen."