15 November 2007 Edition
Sinn Féin fightback gathers momentum
As Irish republicans gathered in large numbers on several occasions and at several venues from Edentubber to Mallow last weekend one message was heard loud and clear – republican objectives have yet to be achieved and our struggle must continue with renewed vigour.
Further meetings have taken place as part of Sinn Féin's fightback in the 26 Counties following the disappointment of last May's general election. This process of renewal and regeneration will continue with two national party conferences, the second being a major public conference on 9 December in Dublin.
Sinn Féin is intent on doing things differently in the 26 Counties in the time ahead. Party activists and members have debated a strategy to deliver republican objectives in the run up to the EU Reform Treaty and 2009 local and European elections.
The changes taking place are based on the arguments articulated by the Sinn Féin membership across the length and breadth of Ireland. Party structures are being overhauled to make them fit for purpose in the time ahead.
Central to Sinn Féin's strategy will be to increase support for Irish re-unification and develop a campaign strategy to popularise the party's vision of unity and equality. As part of this process leading republican Martin Ferris has been appointed Sinn Féin spokesperson for Irish unity.
Sinn Féin has the potential to form a real political opposition in the 26 Counties. Green and Independent TDs have all been co-opted or neutered by Fianna Fáil while Labour's achievement, once again, has been to revive Fine Gael.  
Sinn Féin is the only party in the Dáil who will oppose the new version of the EU constitution, rejected by the people of France and the Netherlands two years ago. It is the responsibility of republicans to defend such independence and democracy as the 26 Counties has left.
Sinn Féin will continue to spearhead the fight for equitable public services, safe communities, a first class health service and a vibrant economy that works for ordinary people.
The republican struggle has entered a new phase.  Ireland in 2007 is a changed place from that of 1970 or 1981. The arena for political struggle has changed. But Irish unity, independence and the building of a republic founded on the principles of equality and social justice have yet to be realised.
Republican ideals and objectives are as necessary as they ever were and importantly they have the potential to galvanise a broad spectrum of Irish public opinion.
Having endured decades of struggle in which many comrades paid the supreme sacrifice, republicans must now ensure that we win the peace and build a united Ireland of equals.
An Phoblacht Magazine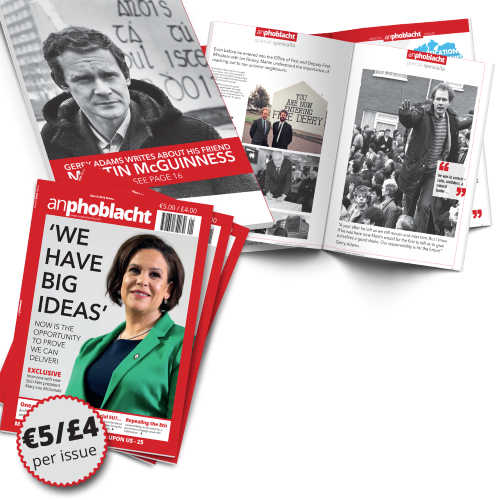 AN PHOBLACHT MAGAZINE:
The first edition of this new magazine will feature a 10 page special on the life and legacy of our leader Martin McGuinness to mark the first anniversary of his untimely passing.
It will include a personal reminiscence by Gerry Adams and contributions from the McGuinness family.
There will also be an exclusive interview with our new Uachtarán Mary Lou McDonald.
test