8 November 2007 Edition
Irish events to mark Saro Wiwa anniversary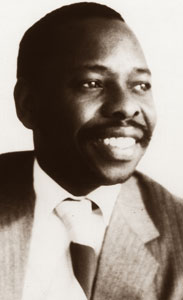 This week 12 years ago, in November 1995, Ken Saro Wiwa and eight other activists were languishing in appalling conditions in the military prison in Port Harcourt Nigeria. They had been tried the previous month on obviously false charges of conspiracy to murder, and the Nigerian government had instituted a special no-jury military panel to hear the case against them.
While journalists had been banned from the court, and supporters were held outside by armed guards, a representative of the Shell Oil Company was given a reserved place in the courtroom to observe proceedings every day. People around the world wrote letters to the Nigerian regime, and protests were held in the United States, Canada, Europe, and Africa, but to no avail.
However, Saro Wiwa's relatives were contacted by representatives of Shell and asked for a meeting. The head of Shell Nigeria, Brian Anderson, told Ken's younger brother Owens Wiwa that Shell needed a "goodwill gesture", and indicated that if the Saro Wiwa called off the campaign against Shell's activities in the region, his life would be spared. However the nine men on death row decided that it was Shell which needed to make a goodwill gesture. The company had been supplying arms to the Nigerian military in an effort to stamp out resistance to their activities in Ogoniland, activities which had seen the rivers polluted, the land spoiled for crops, and young people driven away from their homes and families.
Although people like Irish missionary nun Sister Majella McCarron appealed to governments around the world to bring pressure to spare the lives of the nine men, it was clear to many that only Shell could intervene to stop the executions.  From prison, Ken Saro Wiwa said: "I'll tell you this, I may be dead but my ideas will not die."
On 10 November, Baribor Bera, Saturday Dobee, Nordu Eawo, Daniel Gbokoo, Barinem Kiobel, John Kpuinen, Paul Levura and Felix Nuate were hanged one by one at Port Harcourt Prison. Ken Saro Wiwa was forced to watch the executions before he in turn was hanged.
There are three large scale events planned in Ireland for next Friday and Saturday to commemorate Saro Wiwa and the Ogoni Eight. There will be a protest march to Shell's proposed Bellinaboy refinery site in Mayo at 7am on Friday morning. This event will also mark exactly a year since the baton charge  by the gardaí against a similar march to remember Saro Wiwa.
A seminar on Ken Saro Wiwa's life and work will be held at University College Cork on Saturday morning from 11am.
In Dublin, Shell to Sea activists will join with Ogoni Solidarity Ireland to hold a candle-lit vigil at Shell Irish HQ at Leeson Street at 5PM on Saturday. This event will include, weather permitting, the first Irish screening of a short film on the trial of Saro Wiwa – Don't Let Shell Kill Again.   
Speaking about the planned events, Sister Majella McCarron, who worked closely with Ken Saro Wiwa in the Niger Delta, said: "It is appropriate that we commemorate Ken Saro Wiwa and the Ogoni Eight in Ireland, because we are presently witnessing Shell's campaign in County Mayo, and the tactics being used are markedly similar to what we have seen the company do in other countries, including Nigeria."
• For further details on any of these events call 087 132 3369.