8 November 2007 Edition
Public inquiry into breast cancer scandal demanded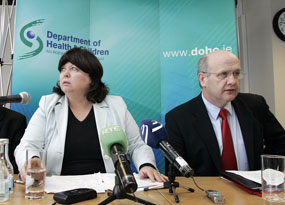 By
Seán Mac Brádaigh
HEALTH MINISTER Mary Harney has ruled out a public inquiry into the wrong diagnosis of breast cancer in patients at Portlaoise Hospital. Seven women who were screened at the hospital had been given the all-clear but were told last week that they had breast cancer. An eighth woman came forward on Monday.
Ruling out a public inquiry, Mary Harney said that details of a review which uncovered the errors will be made public. She also defended remarks by 26-County Health Service Executive CEO Brendan Drumm who put most of blame on local communities protesting at the loss of cancer services in smaller hospitals, and also on doctors who opposed the centralisation of cancer care.
Even Fianna Fáil TD Mary O'Rourke described Drumm's remarks as "astoundingly insensitive". Health services campaign groups have accused the head of the HSE of taking a cheap shot at local communities by blaming them for the failures in the health system.
Irish Rural Link, the community network representing 250 groups and with 10,000 members, said Drumm would never convince the public of the merits of his plan if he adopts such an attitude.
Commenting on the mammography controversy over at the Midland Regional Hospital, Sinn Féin Health and Children spokesperson Caoimhghín Ó Caoláin said people throughout the country are appalled at the plight of the women who were given the all-clear but later diagnosed with cancer. He said that neither the Health Service Executive nor Health Minister Mary Harney can shirk their responsibilities for the situation. He said:
"The HSE is directly responsible for public hospital services. It has a duty to ensure that proper standards are maintained. There needs to be a thorough investigation of what went wrong at the Midland General Hospital. Any investigation must be open and transparent."
The Cavan/Monaghan TD said it is "disgraceful" for the HSE chief executive to try to shift the blame for the situation onto the people of Portlaoise and the Midlands because, like people in other regions, they have opposed any threatened downgrading and loss of services at their hospital.
"This latest crisis exposes the overall lack of coherent policy and planning at Government and HSE level," Ó Caoláin said. "For example, Professor Drumm and Minister Harney have publicly disagreed on whether radiation oncology should be delivered through the public or the private system.
"What is needed urgently is comprehensive cancer care provided in the public healthcare system and available to all based on need alone, regardless of ability to pay and without discrimination based on geographic location. Nothing less is acceptable."
Meanwhile, Laois Sinn Féin Councillor Brian Stanley said:
"The false diagnosis given to seven patients at the hospital is shameful and inexcusable. Vital time has been lost that should have been used to provide appropriate treatment for the women concerned."
Stanley raised the matter with John Bulfin, Regional Manager of the HSE, when he met him on Tuesday.
"This latest incident highlights the shambolic state of cancer care in this country and the Third World nature of what's supposed to be a health service.
"The crisis with cancer care in Portlaoise is reflected in other services at the hospital. Maternity services are stretched to breaking point due to staff shortages and lack of facilities and the new A&E unit has been lying idle for a year while patients with serious medical conditions are treated in alcoves on a corridor in the existing A&E unit.   
"Despite billions of euros of taxpayers' money and columns of senior managers there is neither quality care, efficiency or accountability in the Health Services Executive.
"With the resources being provided by the taxpayer, we should have a proper public health system. No one seems to be in charge. The Fianna Fáil/PD/Green Government hides behind the HSE and waffles on about reforms and improvements in services while it is patently obvious that the health system is in crisis. The facts are that Fianna Fáil have been in power for 19 of the last 21 years and they must take responsibility for the ongoing crisis in our inefficient two-tier health system
"The HSE needs to carry out an immediate and thorough investigation into cancer treatment at Portlaoise Hospital to determine how this happened and if there have been other cases of misdiagnosis concerning cancer patients."