8 November 2007 Edition
Dublin housing situation a shambles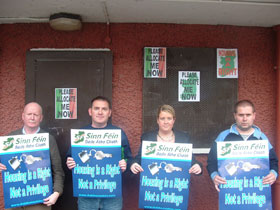 DUBLIN City Councillor Louise Minihan has described the housing situation in Dublin as "a shambles" and said the council's response this week to her own questions on the issue was "startling" and a sign that no progress has been made to tackle the ongoing housing crisis.
"The situation is an absolute disgrace," Louise said. "There are 9,690 people waiting to be housed, 481 on medical priorities and 108 on welfare priorities. What makes this situation even more alarming is that there are 2,759 empty homes in Dublin at the moment.
"Dublin City Council needs to get their act together and get families into this vacant housing. Nowhere should be empty while there are over 10,000 people waiting to be housed."
The Ballyfermot councillor said that Dublin City Council's housing stock stands at 26,762. "There are obviously not enough houses to accommodate the ongoing demand and it will only get worse.  People cannot get housed, cannot afford to buy a house and cannot afford the council's so called 'affordable housing' which, in my own area, has house prices starting at €230,000.
"We as a party need to be proactive on this issue and must highlight this problem at every opportunity.  It is everybody's right to have a home and we must tackle this on a 32-County basis."