8 November 2007 Edition
Massive pay increases for government unacceptable - Morgan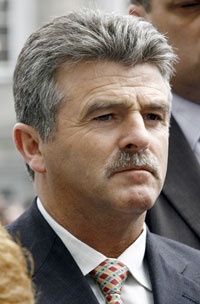 SINN FÉIN Finance spokesperson Arthur Morgan has described the announcement of "massive" pay rises for 1,600 senior public servants including the Taoiseach, Tánaiste and government ministers as totally unacceptable.
"That the Review Body on Higher Remuneration in the Public Sector have sought to release these pay increases on a Thursday afternoon as Dáil business is concluding for the week speaks volumes.
"Over the last 12 months there has been warning after warning of an economic down-turn. The Government's own Pre-Budget Outlook projects tax collection in 2008 being €2.2 billion lower than predicted last year at Budget time.
"Yet despite these harsh economic realities, government ministers are to be awarded massive pay increases of up to 15 per cent. The Taoiseach himself will receive a whooping €38,000 extra per year, a figure in itself that is more than the average annual industrial wage.
"It is absolutely unacceptable that these wage increases be implemented. The government cannot in one breath award themselves substantial pay increases and in another tell ordinary people to tighten their belts for the hard times ahead. Such arrogance and complete disrespect for ordinary people cannot go unchallenged."