8 November 2007 Edition
Media View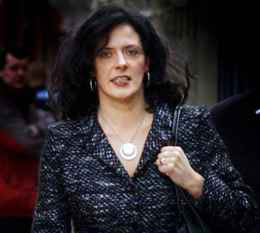 Suzanne Breen gets down and dirty
ONE of Suzanne Breen's favourite devices when attacking Sinn Féin is to quote disgruntled former republicans. However, in a contemptuous – and contemptible – Sunday Tribune article on the late Martin Meehan, she could find nobody willing to oblige and so Suzanne had to get down and dirty herself.
All of Belfast and many parts of Ireland know that Martin Meehan was a soldier of the IRA who devoted his whole life to the Republican Movement and who risked his life on countless occasions.
Older readers may also recall Martin telling a press conference in 1972 how the IRA had fought a lengthy gun battle with the British Army on the border. But Breen described how, despite his claims, and "despite over 4,500 rounds of ammunition being fired, the only casualty was a farmer's prize-winning pig". What a loud, stupid, braggart this man Meehan appears to be, as painted in Breen's article.
And now the truth: media reports after the 1972 gun battle outside Dundalk had recorded that there were indeed many rounds of ammunition fired that day, most of them heavy machine-gun bullets from the British Army in a fusillade so fierce that it caused the farm outhouse targeted by the Brits to burst into flames. There were fears, inspired by British Army press leaks, that Meehan and the rest of his active service unit had been wiped out, and so a press conference was organised to reassure the public that the unit had survived. Meehan took the opportunity, shortly after he escaped from prison and just after he had narrowly escaped death, to tell British reporters that he would be returning North to confront the British state again.
This is a slightly different picture and a quite different man to the one alluded to in the Tribune article about someone whose every waking day contained more sacrifice and heroism than the bilious Breen's entire existence.
I wonder if this piece of black propaganda about the late, very courageous freedom fighter, Martin Meehan, who defended his community and inspired a generation of republicans, will be the subject of discussion on The Blanket website?



THERE were Pythonesque scenes at the SDLP conference last weekend when parties from north and south of the border buzzed around like vultures hovering over a political carcass. Oddly, none of the five in attendance  – the SDLP, Fianna Fáil, Ulster Unionist Party, Irish (Southern Irish, that is) Labour Party and Fine Gael – is an all-Ireland party but they all want a piece of the SDLP.
Last Sunday, British war reporter Liam Clarke wrote in The Sunday Times how Sinn Féin's only political advantage was its all-Ireland dimension but that this is being challenged by the Green Party and the Labour Party. Clarke, a former Sticky who knows a thing or two about political conspiracies, then described how Democratic Left had "backed into" the Labour Party and how the SDLP could do the same with Fianna Fáil. I am not making any of this up, nor am I distorting Clarke's thought-process.
In any case, Clarke opines, with what readers can only take to be a degree of regret, that any move by Fianna Fáil to electioneer in the North would see it "trounced by Sinn Féin" and so the party has decided to do a deal with the SDLP instead.
The Irish Times goes into overdrive whenever the SDLP's corpse twitches and there were multiple reports from the conference in the newspaper on Monday. Much of this was reportage of attacks on Sinn Féin but the main preoccupation was with Fianna Fáil's attempt to merge/form an alliance with (actually, take over) the SDLP. The paper also published a large colour picture of SDLP leader Mark Durkan with his wife and small child that, for some reason, did not prompt the cynical jeers and remarks about photo opportunism that often accompanies reports on Sinn Féin meetings, children or no children.
In any case, Irish Times readers' appetites, whetted by the preamble to the big debate about the future of the SDLP and how the party might relate to Fianna Fáil and the UUP at the same time, would have devoured every detail of this debate – if allowed to read it. Alas, as the small print at the end of Gerry Moriarty's long and necessarily uninformative article told readers, "the SDLP opted to discuss the issue yesterday with the press excluded".
Dear me, such an affront would normally provoke a lather of indignation from The Irish Times.

An Phoblacht Magazine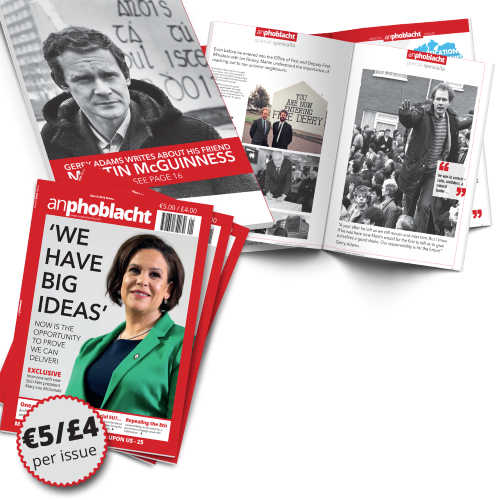 AN PHOBLACHT MAGAZINE:
The first edition of this new magazine will feature a 10 page special on the life and legacy of our leader Martin McGuinness to mark the first anniversary of his untimely passing.
It will include a personal reminiscence by Gerry Adams and contributions from the McGuinness family.
There will also be an exclusive interview with our new Uachtarán Mary Lou McDonald.
test