8 November 2007 Edition
Sinn Féin looking forward with confidence - Adams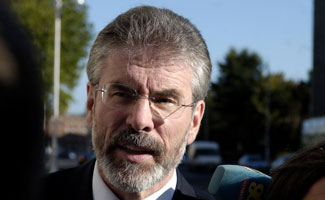 Sinn Féin President, West Belfast MP Gerry Adams MP MLA speaking at an internal Belfast party conference last Sunday, 4 November said republicans are looking forward with confidence as they embark on potentially the most rewarding phase of struggle.
"It was here in Belfast, just over 200 years ago, in the late 18th century that Irish republicanism took root. And in particular it was the notion of The Republic – a state in which the people are sovereign – which attracted the interest of a radical group of Belfast Presbyterians. It is from these roots that modern Irish republicanism draws its core political values.
"And today Irish republicanism is thriving in this, the city of its birthplace. In the Assembly elections earlier this year Sinn Féin won more seats in the city than any other party. We now have eight MLAs.  And within the greater Belfast area, including Dunmurry Cross, we also have 17 Councillors. Tens of thousands of Belfast citizens vote for our party. That places a huge onus on republicans to deliver for them, as well as for all of the other citizens of Belfast
"We are now embarking on the most difficult but potentially most rewarding phase of our struggle. It is about building political strength and using it to improve living conditions for citizens, to build prosperity and equality, and to advance toward national freedom. It's about tackling disadvantage and being relevant to citizens in their daily lives."
Adams called on party activists to develop an entirely new relationship with unionism.
"At community level, in the Councils, on voluntary and statutory bodies, in the Assembly, and in many other places, republican activists are meeting unionists everyday. Republicans need to engage with them at every opportunity; to talk about the future, to listen to their concerns; to find ways in which we, and they, can work together to overcome problems; and to persuade them that their future, their best interests, are better served in a united Ireland", he said.
Commenting on the major work which is ongoing in rebuilding and expanding the party in the South, Adams said that in recent years Sinn Féin had been very successful in doing this electorally, especially in the North. The Assembly election in March provided ample evidence of this. Sinn Féin secured almost 181,000 votes – our highest number ever in the north. 28 seats. 5 Ministers. However, this year also witnessed a disappointing result in the southern general election. There were high expectations internally and externally about that election which we didn't meet.
"Many will remember the election of April 1992 when we lost the West Belfast seat. That too was a disappointment. Our enemies thought it was a fatal blow – that they had us on the run. Well, they didn't. We immediately got down to the business of winning the seat back. Of building republicanism. Of planning and strategising and of looking forward. That's the lesson of that time. And we have a lot to build on in the time ahead",  Adams said.
The party's vote in the 26 counties went up overall and Sinn Féin came very close to taking a number of extra seats. Over the summer Pearse Doherty from Donegal was elected as Sinn Féin's first Senator.
"Since the election the party has been meeting locally and nationally, reviewing what happened, and we are putting a plan in place to get us back on track. This will see two major party conferences take place before the end of the year. But these are only part of the way forward. We have to build on that; build on our republican roots and policies; shape them to take account of the political realities of Ireland today, and move forward confidently. We have to grasp the major political opportunities which are now open to us",  the Sinn Féin President said.