8 November 2007 Edition
Connacht and Leinster kick off 26-County fightback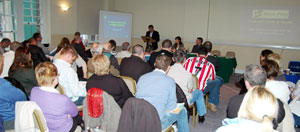 A SERIES of important Sinn Féin gatherings are currently being held around the 26 Counties as part of Sinn Féin's fightback after the general election. The process began on Saturday, 3 November, with conferences in Connacht and Leinster, two of Sinn Féin's five regional organisational areas or cuigí.
The first in two national party conferences will take place later this month. The process will culminate with a major public conference on 9 December in Dublin.
Addressing the Connacht conference held in Tuam, County Galway – 'Connacht Republicanism in the 21st Century' – Senator Pearse Doherty said Sinn Féin is on a major recruitment drive "parish by parish".
Doherty outlined how the party turned a bad local election result in Donegal in 1999 into 23 per cent of the vote in the general election. He also expressed his confidence that Sinn Féin will poll better in the 2009 EU election in Connacht than his impressive 68,000 in 2004.
The keynote speech was given by the cathoirleach of Sinn Féin in Connacht, Vincent Wood.  Wood urged republicans to think creatively, acknowledge the changes in Ireland and to reach out to a wider audience.  
"We, as republicans, need to consider our role as advocates. Advocates on behalf of people  – communities and individuals – who make up the vast majority and who desire a better society, a society where access to essential public services does not depend on either your wealth or your geographical location," he said.
On the need for more women to become involved in political life in general and with Sinn Féin in particular, Vincent Wood said it meant "male comrades making space for – stepping aside if needs be – in favour of the limited number of women that we have.  This is particularly necessary when it comes to the visible presence of women.  Half of the councillors in this region should be women if we are to reflect society.  How do we make this happen? We will need to make resources available to ensure this happens.  We will have to pay for childcare.  We will have to change the way we meet."
On the 'new Irish' communities, Wood said that if Sinn Féin is to truly reflect society in today's Ireland "we will have to have a membership that includes people from the 'new Irish' communities: from Eastern Europe, Africa, South America".
He explained:
"Any cumann in Gort would have a significant Brazilian membership, for example. There are 4,000 people from Poland living in Galway City alone.  We will need to engage with these communities and recruit members from within them. And this is all to the good.  It will enrich Irish republicanism, just as cultural diversity enriches society as a whole."

Dublin's Writers' Museum was the venue for activists and representatives from all the Leinster counties outside of Dublin. Minds were focused on moving from the process of review and analysis following the election to the steps needed to move the republican struggle forward.
Speakers included Arthur Morgan TD and Declan Kearney from the Ard Rúnaí's Department.
Both emphasised the need for republican activists to move beyond the disappointment of the 26-County elections and begin the practical steps needed for the fight-back.
Also speaking at the conference was Michael Nolan, the newly appointed regional organiser for South Leinster, who called on people to stop being spectators in the process and to recommit themselves to engaging as activists with a desire to see change in society actually happen.
The chair of Cúige Laighean, Jacqui Russell, and the newly appointed regional organiser for North Leinster, Darren O'Rourke, gave a power-point presentation offering a blueprint for the development of work-plans for 2008 and beyond in Leinster.
In a wide-ranging presentation covering areas from organisational restructuring to the development of political strategies for Leinster Sinn Féin, particular attention was paid to the pivotal role of the comhairle ceantair structures in advancing the strategy.  During the course of the presentation it was also announced that a process of splitting the cúige into two would begin immediately to bring a greater sense of identity, cohesion and ownership to the new respective structures. This had been a particular bone of contention for Leinster activists who had viewed the current set-up as impractical in terms of work because of the expansive geographical size of the current cúige.
Make sure you are registered to vote
26-COUNTY DEADLINE: 25 NOVEMBER 2007 
ALL REPUBLICANS should check if they are on the new Register of Electors.
If you have been on the register before, check that you are still on the register now.
If you haven't been on the register before, it's easy to do so.
If you will be 18 by 15 February of next year and you will normally be living at one address then register now by downloading Form RFA1 at www.checktheregister.ie and getting back to your local authority by post or by hand.
There are special provisions for postal votes for people with disabilities, people unable to vote at their normal polling station because of work or education commitments, or people in prison.

REGISTER OF ELECTORS
Are You Registered to Vote? Check the Register in your local area online NOW!
Checking the Electoral Register for your area has never been easier!
City and county councils now allow you to check if you're registered to vote through the online eReg service. Simply click on the relevant link at www.checktheregister.ie to check the Electoral Register for your area. If your details do not appear please follow the instructions on your council's website.
The draft register is published on 1 November each year by city and county councils and is made available for examination online and at post offices, public libraries, Garda stations and council offices up to 25th November.
To ensure that you are correctly registered you should check the draft register during this period every year. Any errors or omissions in the draft register should be brought to the attention of your city or county council immediately.
This should be done by completing Form RFA1 – available for download at www.checktheregister.ie – and by returning it to your city or county council before 25 November.
The final register is published on 1 February and comes into force for a year on 15 February.