8 November 2007 Edition
Matching words with actions
This week we commemorate the 50th anniversary of the tragic deaths of five republicans at Edentubber. It is often claimed by anti-republican commentators that the anti-Partition rhetoric of the 26-County politicians was a key factor in motivating young men to take up armed struggle and join the IRA's campaign of the 1950s. A closer reading of the facts, especially what republicans were saying, would lead to a different conclusion.
Republicans at that time made clear that one of their spurs to action was not the anti-Partition rhetoric of Fianna Fáil and Fine Gael but the failure of these politicians to act on their words and to do anything of substance to bring about an end to British rule and the division of the country. John Joe McGirl TD stated as much at the funerals of the Edentubber men.
The scenario was repeated just over a decade later. Fianna Fáil Taoiseach Jack Lynch said he would "not stand by" while nationalists in the Six Counties were attacked by the Orange state. He proceeded to do just that. In the following years the political establishment in the 26 Counties  jettisoned their republican rhetoric lest they be required to act on their words.
Politicians in the 26 Counties who claimed the mantle of republicanism failed miserably to present a viable strategy to end partition and the conflict which arose from it. Their failure led many young nationalists to the conclusion that the only viable strategy was armed struggle.
This generation of republicans have by their own efforts developed a peace strategy and a peace process which has strengthened republicanism, weakened partition and presented a peaceful way forward towards a united Ireland. While 26-County governments have played a part, their efforts have been far from sufficient. Too often party political considerations have been placed above the national interest.
So it is with the issue of Dáil representation for citizens in the Six Counties. Sinn Féin Dáil Leader Caoimhghín Ó Caoláin welcomed the Taoiseach's comments in the Dáil on Wednesday when he stated his support for representation in the Dáil for Six-County MPs. But Bertie Ahern has consistently failed to match these words with action.  
The Taoiseach should push ahead with the implementation of his own previous proposal for Six-County MPs to be given access to the Dáil sitting 'in committee of the whole Dáil'. Fine Gael and Labour should back it. And all should recognise that this would be a positive step forward.

An Phoblacht Magazine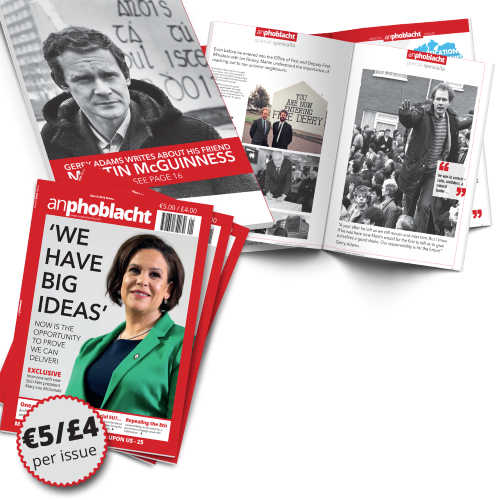 AN PHOBLACHT MAGAZINE:
The first edition of this new magazine will feature a 10 page special on the life and legacy of our leader Martin McGuinness to mark the first anniversary of his untimely passing.
It will include a personal reminiscence by Gerry Adams and contributions from the McGuinness family.
There will also be an exclusive interview with our new Uachtarán Mary Lou McDonald.
test