1 November 2007 Edition
UTV programme exposes hospitals emergency
State of Emergency, a documentary broadcast on ITV on Monday evening, 29 October, was billed as a programme in which Moreland Sanders looked at how the closures of some Accident and Emergency departments across England "could affect patients whose lives depend on getting treatment within minutes".
Health lobby groups in Ireland have hailed the programme as "exposing the emergency planned by Government for people who need a hospital in a hurry".
"Exactly the same crazy policies are at work here as in England", Peadar McMahon pointed out. "Royal college population ratios for hospital A&E units are a recipe for death by geography".
ITV's State of Emergency interviewed patients who would have died if their local  casualty unit has been closed. The Hanly Report is still Government policy.  Implementing it will close two-thirds of our hospital A&Es', says the Chairman of the Health Services Action Group (HSAG).
'Telling people you have to have a population of 400, 000 before you can have an A&E unit is insanity'.
'Hundreds of thousands will be left without a hospital emergency service', HSAG press officer Marie O'Connor adds. 'In non-urban areas, people will have to drive for up to two hours to their nearest A&E.
Your chances of dying rise by one per cent for every ten kilometres travelled.'
Government plans will see all acute services funnelled into 10 or 11 hospitals. There will  be no urgent care beds anywhere outside these giant centres. 'Our population is much smaller, and more scattered than Britain's. These new hyperhospitals will have a catchment area of 2,400 square miles. People will die in transit', says Marie O'Connor.
An Phoblacht Magazine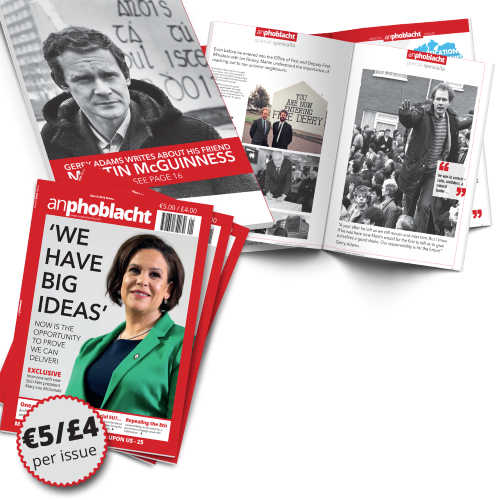 AN PHOBLACHT MAGAZINE:
The first edition of this new magazine will feature a 10 page special on the life and legacy of our leader Martin McGuinness to mark the first anniversary of his untimely passing.
It will include a personal reminiscence by Gerry Adams and contributions from the McGuinness family.
There will also be an exclusive interview with our new Uachtarán Mary Lou McDonald.
test