25 October 2007 Edition
Monaghan killing - political manipulation irresponsible
The killing of a young man in County Monaghan in the early hours of Saturday morning, 20 October was brutal, savage and an affront to decent people everywhere.
People in the local community are deeply shocked that such an appaling act could occur in such a quiet, rural area.
It is imperative that any member of the community who has any information on this criminal act of barbarism should make it immediately available to either the Garda or the PSNI. Those responsible for Paul Quinn's death should be brought to justice and face the full rigours of the law.
Since the killing there have been claims that republicans were behind it. Some of those making such claims are very clearly politically motivated and are shamefully using this tragedy to attack Sinn Féin.
Sinn Féin leaders have made it very clear that they do not accept that there was any republican involvement and Sinn Féin President Gerry Adams has stated that he believes that those involved in the killing were criminals linked to fuel smuggling activities.
Sinn Féin Deputy First Minister in the North Martin McGuinness has spoken with Garda Commissioner Noel Conroy and PSNI Chief Constable Hugh Orde in relation to the investigation into the incident while Cavan/Monaghan TD Caoimhghín Ó Caoláin and local Sinn Féin Councillor Jackie Crowe have held a meeting with the local Garda Superintendent in Castleblaney. At no time did members of the Gardaí or PSNI raise any suggestion of republican involvement.
It has now emerged that death threats have been issued against a South Armagh man that are directly linked to the baseless claims of republican involvement in the attack on Paul Quinn. This is just one example of the consequences of wild, politically motivated rumour mongering and felon setting.
There are those who wish to use this appaling crime as a political football. They should not be allowed undermine the investigation into Paul Quinn's death. Political or media manipulation will not lead to justice for the Quinn family and it is highly irresponsible.
Republicans have been crystal clear on this issue. The attack on the group of young men in Monaghan that led to the death of Paul Quinn was a crime. Those who carried it out were criminals. Sinn Féin stands full square against such criminality and will do all in its power to assist in the police investigation that will lead to the conviction of those who carried it out.

An Phoblacht Magazine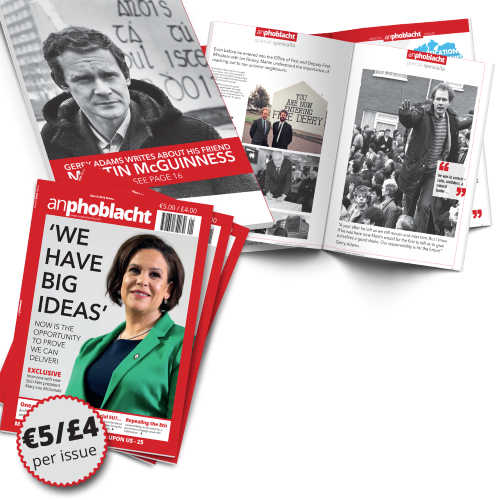 AN PHOBLACHT MAGAZINE:
The first edition of this new magazine will feature a 10 page special on the life and legacy of our leader Martin McGuinness to mark the first anniversary of his untimely passing.
It will include a personal reminiscence by Gerry Adams and contributions from the McGuinness family.
There will also be an exclusive interview with our new Uachtarán Mary Lou McDonald.
test