18 October 2007 Edition
Media View By JULIA CARNEY
Failed comedian out of his depth
Newton Emerson first came to notice as the founder and editor of The Portadown News, a now defunct satirical website commenting on the North and mocking the working class people Newton finds horribly distasteful.
In fairness to Newton, he was equally happy mocking working class nationalists, as he was working class unionists and in the North, this qualifies as progressive, nay radical.
Since he shut down the site he has moved on as occasional columnist for the Irish Times and the Irish News, fitting into that Irish media niche, dominated by the Sunday Independent's Brendan O'Connor, where failed comedians become failed political commentators.
He was in the Irish News this week bringing all the skills of a comedian to serious political and policy analysis. He described the notion of a Bill of Rights for the Six Counties as a 'ludicrous left-wing wish-list', dismissing the whole notion of socio-economic rights and darkly suggesting a hidden socialist agenda aimed at wiping out individual freedoms.
Shame, as bloggers on Slugger O'Toole quickly pointed out, that the quotes on which he based his article were from outdated and no longer relevant reports. Journalism Newton my friend, is harder than insulting overweight women in an allegedly amusing way. One shouldn't try to overreach in this world.
In reality social and economic rights are contained in the Universal Declaration of Human Rights, which Newton seems to know. These include the right to own property and not be deprived of same, which should have tipped off Newton that it wasn't written by Marxist theorists based in the Kremlin.
But though they exist and governments have signed up to them, they are not recognised in law, which Newton seems not to understand. There is no legislative right to a home, to proper healthcare, in 26 County or Northern law despite it existing in internationally agreed treaties and declarations and being inherent to each and every one of us.
A Bill of Rights guaranteeing such is all about protecting the individual freedoms of citizens to vindicate these rights in a court of law, not a quango as Newton suggests. 
Ironically, he concludes by wondering how the report's authors could presume to improve on the work of the philosophers of the enlightment (a tip Newton – read them before you refer to them), while himself assuming the ability to comment on issues he clearly does not understand in reports that are no longer relevant.


It is a rare thing for journalists not to follow the populist mob, especially where crime and victims are to be concerned, but to analyse things in a sober manner. All credit so to the Irish Independent's Legal Affairs correspondent Dearbhail MacDonald who, while rightly criticising the deplorable manner of Justice Paul Carney's attack on Majella Holohan last week, pointed to its value in reviving a crucial moral and ethical debate.
"In the wake of high-profile crimes we clamour for justice when what we really want is retribution," MacDonald pointed out.
"We say we respect due process when what we really want is a conviction – and harsh sentence – at all costs. We now adopt the obsessive grief of victims as our own. And then we form a prior verdict in our minds that can't be swayed, whatever the evidence."
For too many people the notion of defending civil liberties and human rights is seen as synonymous with defending criminals or lawbreaking and not defending basic notions of justice. We need justice, and we need reform of the overly adversarial nature of our judicial system, but we need to ensure hard won civil liberties are protected. MacDonald is one of the few journalists brave enough to point this out.
 

Moving on, but staying with the Independent, signs that the love-in between Independent Newspapers and Fianna Fáil is set to continue with the appointment of Gene McKenna, Political Editor of the Irish Independent to the position of Press Director for Fianna Fáil.
From Fianna Fáil's point of view it makes a great deal of sense. Gene has over 40 years in Irish journalism and is a veteran political commentator who has been around Leinster House long enough to know the location of a fair few bodies. Bertie's party is also not quite getting the slavish displays of loyalty reminiscent of a Maoist personality cult in the Irish Independent that he gets in the Sunday edition.
Hopefully our friend Gene will be able to sort that out and we wish him all the best in taking Bertie's shilling and abandoning journalism for the other side of the fence.


Finally, next Wednesday sees one of the greatest living investigative journalists come to Ireland courtesy of Amnesty International. Pulitzer prize-winner, Seymour Hersh  is the man who exposed the massacre of Vietnamese civilians at My Lai, radically changing world opinion on the Vietnam War, who helped to expose abuses of Iraqi prisoners at Abu Ghraib in his reporting on Iraq and who revealed that the Bush administration had greenlighted the Israeli invasion of Lebanon last year.
A top-ranking member of the Bush administration called him the closest thing American journalism has to a terrorist. Praise doesn't come much better than that.

An Phoblacht Magazine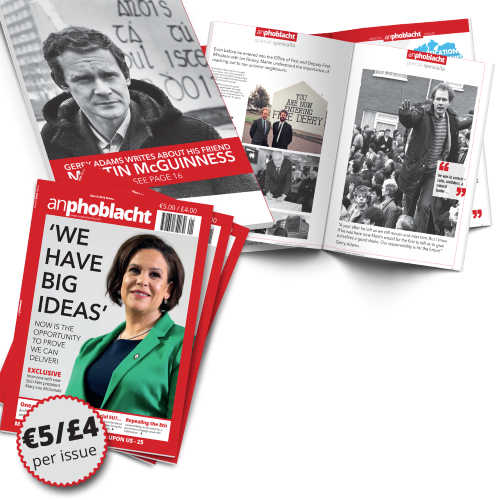 AN PHOBLACHT MAGAZINE:
The first edition of this new magazine will feature a 10 page special on the life and legacy of our leader Martin McGuinness to mark the first anniversary of his untimely passing.
It will include a personal reminiscence by Gerry Adams and contributions from the McGuinness family.
There will also be an exclusive interview with our new Uachtarán Mary Lou McDonald.
test